Pines of Rome
Featuring special guest conductor Maestra Sarah Ioannides and violinist Philippe Quint
The Vancouver Symphony Orchestra USA continues its 2023/24 season on November 4 and 5 with guest conductor Maestra Sarah Ioannides and award-winning violinist Philippe Quint performing the haunting theme from The Red Violin. The program also includes Ottorino Respighi's timeless masterwork Pines of Rome alongside beloved works by Vaughan Williams, Ravel, and Debussy.
The 2023/24 symphonic series is presented thanks to the generous sponsorship of United Grain Corporation.
Maestra Ioannides is returning to conduct the VSO for the first time since January 2021 during a fully virtual season, due to COVID-19 closures. The program included a performance of Samuel Barber's Adagio for Strings which was dedicated to people affected by the virus and featured on PBS News Hour. She is the Music Director and Conductor for Symphony Tacoma and has been a guest conductor for many ensembles including Tonkünstler and Seattle Symphony. Phillipe Quint, joining the VSO for the first time, is a multi-GRAMMY Award nominee, and is considered one of America's preeminent violinists. He has performed as a soloist with such prestigious ensembles as the London Philharmonic and Chicago Symphony.
Vaughan Williams "The Wasps" Overture
Corigliano "The Red Violin" Chaconne for Violin*
Ravel Tzigane*
Debussy Prelude to the Afternoon of a Faun
Respighi Pines of Rome
*Philippe Quint, violin

One hour prior to the program's start on both performance days, a pre-concert talk on the history of the works on the program will be held in Skyview Concert Hall for all ticket holders.
What: Pines of Rome
When: Saturday, November 4 at 7:00 pm, Sunday, November 5 at 3:00 pm
Where: 1300 NW 139th St, Vancouver, WA 98685
The Saturday performance will begin at 7:00pm, with the return of the celebrated VSO pre-concert show Da Capo, hosted by VSO Podcast host Ashley Johnson and VSO trombonist Greg Scholl, airing only on the live stream at 6:30pm. During intermission the live stream will feature special video programming. The Sunday performance will begin at 3:00pm, with the virtual live stream programming beginning at 2:30.
All ticket holders will receive a secure email link in order to access the live stream performances.
Our tech support team will be on standby to assist you if you have any issues logging in during the performances.
About
Sarah Ioannides
Internationally, Ioannides has conducted on six continents with orchestras including the Tonkünstler, the Royal Philharmonic, Orchestre Nationale de Lyon, Malmö Symphony Orchestra, Gothenburg Symphony, the Flemish Radio, Bilbao Symphony, and some of the world's greatest National Youth Orchestras, including the South African National Youth Orchestra, Andalusian Youth Orchestra and the Simon Bolivar Orchestra. The 22/23 Season includes conducting debuts with the Sarasota Orchestra, Orchestre Symphonique de Québec, the Hamilton Philharmonic, Santa Fe Pro Music and the Vermont Symphony.
Appointed as the first woman to a full-time conducting position with the Cincinnati Symphony, she has since conducted extensively in the United States including the Buffalo Philharmonic, Charleston Symphony, Hawai'i Symphony, Louisville Orchestra, North Carolina Symphony, Rochester Philharmonic, Tulsa and the Toledo Symphony.

Sarah has conducted and curated over 60 World, North American and European orchestral premiers, recorded world premieres with Nordic Chamber Orchestra, Malmö Symphony and the Royal Philharmonic Orchestra. She has produced many original videos for live orchestral multimedia performances and digital productions and was previously an assistant, production coordination with composer/conductor Tan Dun.

As Music Director her orchestras have received prestigious awards including ArtWorks grants for community projects, commissioning music and films spotlighting current issues. Equally at home with opera and choral repertoire, she has led many opera productions and conducted at festivals worldwide, including the European premiere of Paulus' The Woodlanders, and Australian & Greek prmieres of Tan Dun's Water Passion after St. Matthew.

Founding Artistic Director of Cascade Conducting & Composing, now in its 6th year, Ioannides supports diversity on the podium through generous scholarships. Ioannides continues to conduct high-level students at Yale University, the Jacobs School of Music and the Curtis Institute of Music. Appearing as guest speaker and on numerous advisory boards, she has served as NEA Panelist for the US Government.

Born in Australia, of Greek and Scottish descent, she was raised in England, studied at Oxford University, the Guildhall School and The Juilliard School, earning two Master's degrees. Ioannides came to the USA as a Fulbright Scholar and graduated from The Curtis Institute of Music, a protégé of the late Otto-Werner Mueller. Married to Scott Hartman, renowned trombonist, they have three children, including twins, Elsa and Karl, and Audrey. An avid long-distance runner Sarah won first place overall woman in the 30k The Defiance in 2021 and in 2022 qualifying for the Boston Marathon with an average pace of 8:19.
About Philippe Quint
One of the most versatile and imaginative artists on the concert stage today, multiple Grammy Award-nominated American violinist Philippe Quint is internationally recognized for his unique approach to classical core repertoire, championing new music, rediscovering neglected works and creating a new format of docu-concert experience; multimedia journeys about lives of Astor Piazzolla and Charlie Chaplin. "Truly phenomenal" is how BBC Music Magazine recently described him, also adding that "Quint's tonal opulence, generously inflected with subtle portamentos, sounds like a throwback to the glory days of Fritz Kreisler."

With an award winning discography of 17 commercial releases that can be found on Warner Classics, Naxos and Avanti Classics, Philippe Quint regularly appears with major orchestras and conductors worldwide at venues ranging from the Gewandhaus in Leipzig to Carnegie Hall in New York, while making frequent guest appearances at the most prestigious festivals including Verbier, Aspen, Colmar, Hollywood Bowl and Dresden Festspiele.

Quint's appearances in recent seasons have taken him to the London Philharmonic, Los Angeles Philharmonic, Chicago Symphony, Baltimore Symphony, Seattle Symphony, Detroit Symphony, Indianapolis Symphony, Houston Symphony, New Jersey Symphony, Minnesota Orchestra, Bournemouth Symphony, Weimar Staatskapelle, Orchestre National du Capitole de Toulouse, Royal Liverpool Philharmonic, Bilbao Orkestra Sinfonikoa, China National Symphony, Orpheus Chamber Orchestra, Berlin Komische Oper Orchestra, Leipzig's MDR performing under the batons of such renowned conductors such as the late Kurt Masur, Edo De Waart, Andrew Litton, Tugan Sokhiev, Ludovic Morlot, James Gaffigan, Carl St. Clair, Michael Stern, Vladimir Spivakov, Cristian Macelaru, Kristian Jarvi, Krzysztof Urbanski, Jorge Mester, Jahja Ling, Krzysztof Urbanski, Carlos Miguel Prieto, Tugan Sokhiev, Tito Munoz, Steven Sloane and Bramwell Tovey.
Philippe Quint plays the magnificent 1708 "Ruby" Antonio Stradivari violin on loan to him through the generous efforts of The Stradivari Society®.
About The VSO
The VSO, now in its 45th season, has been a cornerstone of Southwest Washington's arts community, providing symphonic music of the highest caliber in live performances and through music education in schools, concert halls, and throughout the community. For more information, please visit vancouversymphony.org.
About our Sponsors
The VSO is generously supported by individual donors, The M. J. Murdock Charitable Trust, Realvest Corporation, United Grain Corporation, The Kuni Foundation, Oregon Public Broadcasting, the AC Hotel Mariott, The Columbian, Columbia Credit Union, Gravitate, PeaceHealth Southwest Medical Center, All Classical Portland, Dick Hannah, Michelle's Piano Co., Steinway & Sons, Pacific Office Automation, and The VIC.
Tickets
Available below or by calling (360) 735-7278

All current season ticket holders will receive a secure individualized email link in order to access live-stream of the performances
Single tickets to view the live-stream are on sale now. A secure individualized email link will be emailed to each single ticket buyer.
Our tech support team will be on standby to assist you if you have any issues logging in during the performances.
How to View the Concert
Viewing the online concert is very easy.
Purchase tickets to receive link to secure online concert page and password.
When it is time for the concert login to the live streaming event page and view the concert from anywhere with a computer and an internet connection.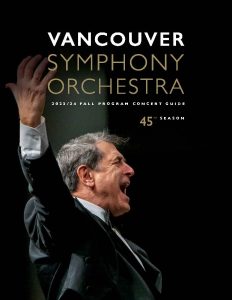 Download Program Guide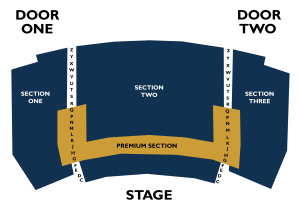 Download Concert Hall Map
Make A Donation
Now, more than ever, your support for the arts is of utmost importance. We count on your support to keep live arts alive in our community.
VSO Pre-Show
The 2023-2024 Concert Season welcomes back the critically acclaimed video series from the VSO! Hosted by Greg Scholl and Ashley Johnson, this exciting pre-show will broadcast on the VSO concert live stream 30 minutes before the concert performance. Full of fascinating information about the repertoire and plenty of laughs, you won't want to miss it!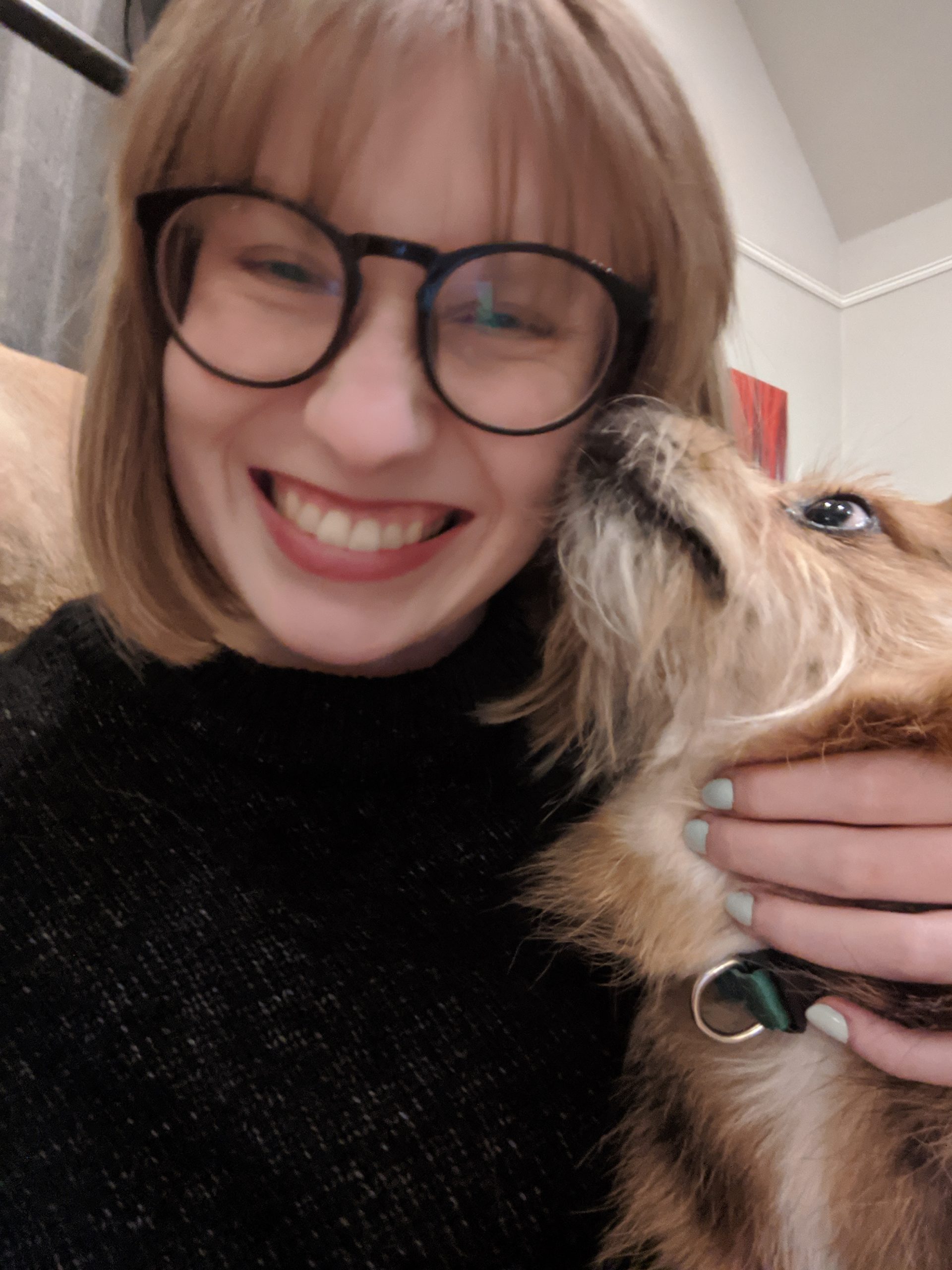 Ashley Johnson
Ashley Johnson has been with the Vancouver Symphony Orchestra since October of 2019. Since December of 2019 she has been the host and producer of The Vancouver Symphony Orchestra Podcast, interviewing prominent VSO figures and guests as well as sharing past VSO performances in the special series VSO Encore. Ashley graduated from Western Washington University in 2013 with a degree in English Literature, and has been active in the Vancouver arts community for over 15 years. She was formerly the music director for the Young Slocum House Players in 2011, and was on the Board of Pacific Stageworks Theater Company from 2019-2023.
Outside of saying flowery things about recordings of classical music Ashley co-hosts a film podcast, produces independent films, and spends time with her daughter Imogen and her husband Will (the superhero who keeps Skyview Concert Hall running).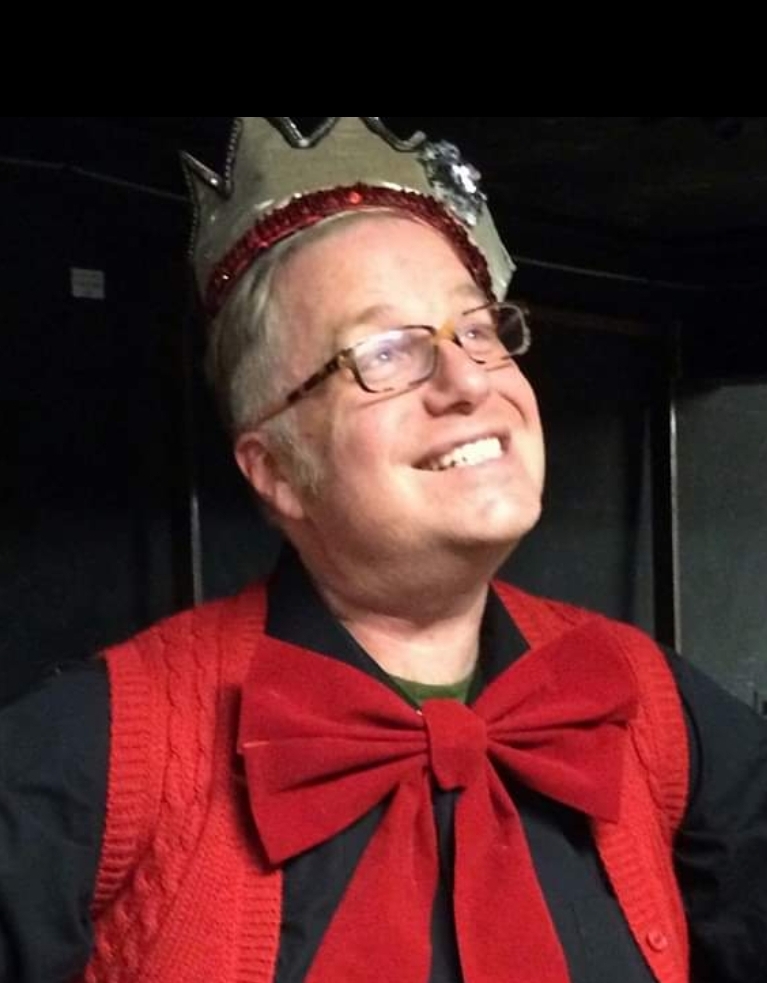 Greg Scholl
Greg Scholl has played trombone in the VSO since 1993 - he became principal trombone in 1995. He is also principal trombone in the Portland Columbia Symphony and the Newport Symphony. Greg also plays locally in the Portland Brass Quintet and the Portland Festival Symphony. He has performed with the Oregon Ballet Theater, the Oregon Symphony, the Portland Opera, the Salem Chamber Orchestra, the Portland Chamber Orchestra, the Portland Symphonic Choir, the Willamette Master Chorus, and the Portland Gay Men's Chorus. He has performed with the Oregon Repertory Singers and the Portland Symphonic Choir. Greg was formerly second trombone in the Austin Lyric Opera.
Greg is the trombone and low brass instructor at Pacific University. He obtained a trombone performance degree at the University of Texas at Austin, where he studied with Donald Knaub. Prior to that he studied with Peter Kline and David Brown in San Antonio, TX. Greg plays in the Portland modern jazz duo Dos Hermanos de Hale Bopp. He also plays guitar and trombone in a variety of styles with local bands and performers such as the Rhythm Dogs, Goombahttsi, and Elvis Presley Tribute Artist Justin Shandor.
After rejecting the millions of dollars people offered him to play the trombone, Greg obtained a law degree in 1995 from Lewis & Clark Northwestern School of Law. During most business days he can be found practicing law as the director of the capital case team at the Metropolitan Public Defender. He enjoys spending time with his family and dogs, reading, camping and hiking, collecting things like Conan the Barbarian comic books, LP records, and concert recordings of the Grateful Dead, and being married to incredible principal bassoonist Margaret McShea. Their son Ben is now in college - he was practically raised at VSO rehearsals back in the day.