Scottish Symphony No. 3: Classical Concert: November 3-4, 2018
November 3, 2018

-

November 4, 2018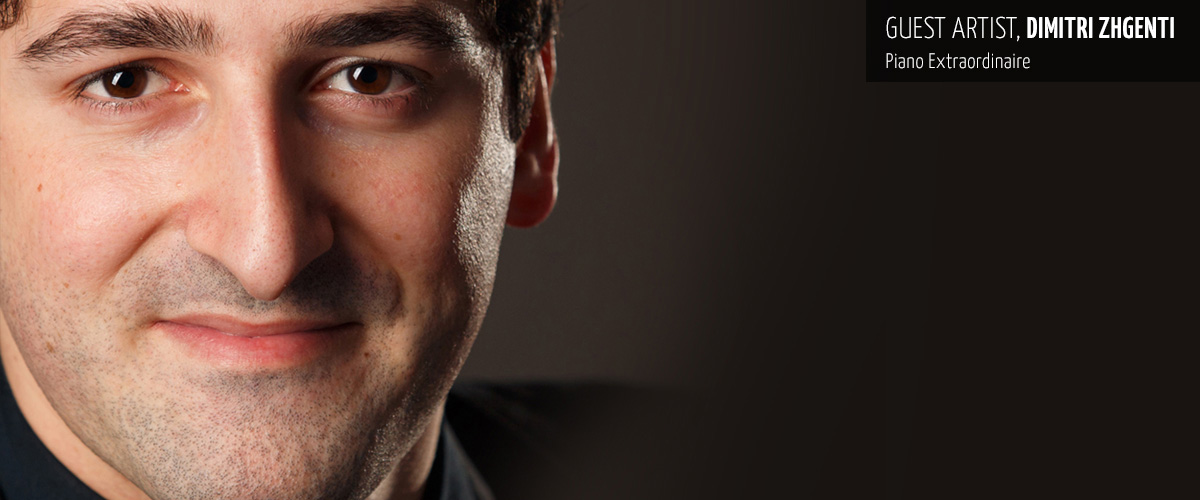 The Vancouver Symphony Orchestra Presents its November Classical Concert: Mendelssohn's Symphony No. 3 "Scottish Symphony"
Highly-Anticipated Return of Local Pianist Extraordinaire Dimitri Zhgenti in
Khachaturian's Piano Concerto, November 3rd and 4th
Berlioz — Roman Carnival Overture
Khachaturian — Piano Concerto Dimitri Zhgenti, piano
Mendelssohn — Symphony No. 3 "Scottish Symphony"
[Vancouver, Washington, October 9, 2018] – Two years after his debut performance at Skyview Concert Hall in 2016, local pianist extraordinaire Dimitri Zhgenti returns to the stage for a performance of Khachaturian's monumental Piano Concerto. Vancouverite and successful instructor of a private studio, Dimitri Zhgenti has been playing the piano for over two decades. A student of renowned concert pianists Alexander Toradze and Vladimir Feltsman, Mr. Zhgenti's intense artistic stylings showcases grand Russian tradition.
Calendar Editors, please note:
Mendelssohn's Symphony No. 3 Scottish Symphony
Special Guest: Dimitri Zhgenti
Saturday, November 3rd, 3 PM and Sunday November 4th, 7 PM
Skyview Concert Hall 1300 NW 139th St., Vancouver, WA, 98685
Tickets: $34 to $50, $10 for students with ID
The orchestra continues its 40th Anniversary of world-class music with Felix Mendelssohn's Symphony No. 3, the "Scottish Symphony." Inspired by the ruins of Holyrood Chapel at Holyrood Palace in Edinburgh, Scotland, the picturesque symphony swells with emotion and incorporates components of Scottish folk dance and folk music, hence its informal title, "Scottish Symphony." Music Director and world-renowned conductor Maestro Salvador Brotons returns to Skyview Concert Hall for his 28th season.
"We are thrilled to welcome back local piano virtuoso Dimitri Zhgenti. We are particularly excited to perform the spectacular Khachaturian's piano concerto with Dimitri" says VSO Executive Director Igor Shakhman. "And of course, Mendelsohn's romantic Scottish symphony is one of the most beautiful masterworks in the orchestra repertoire."
The performances are Saturday, November 3rd at 3 pm and Sunday, October 4th at 7 pm at Skyview Concert Hall, located at 1300 NW 139th Street in Vancouver, WA. Tickets are available for this concert and all 2017-2018 events at vancouversymphony.org or (360) 735-7278.

About Dimitri Zhgenti
Dimitri Zhgenti was born in Tbilisi, Republic of Georgia. At the age of nine he began studying with Medea Javahia and later with one of the prominent professors of the Tbilisi State Conservatory, Rusudan Hodjava. In 2002 Dimitri moved to Vancouver, WA and later in 2004 began studying with renowned American concert pianist and artist-teacher Joanna Hodges at the Joanna Hodges Piano Studio.
Mr. Zhgenti was accepted into the Toradze Piano Studio at Indiana University, South Bend where he studied under world renowned concert pianist Alexander Toradze and concert pianist and Senior Lecturer of Music Ketevan Badridze. There he completed both Bachelor's and Master's degrees (2008-2014). Starting in 2011 Dimitri began studying with American award-winning pianist and teacher Mark Westcott and has completed additional study at the SUNY New Paltz Piano Summer festival under the artistic direction of Vladimir Feltsman. In 2015 Dimitri performed an audition for maestro Salvador Brotons. He was immediately recognized for his blazing virtuosity and musical intensity and was invited to perform with the Vancouver Symphony Orchestra of Vancouver, Washington in January of 2016.
After his debut with the VSO, Dimitri opened his piano studio and soon after joined the board of Vancouver Symphony Orchestra, Vancouver, WA. Dimitri continues to be active performer and is always looking for opportunities for his students to perform at different events and concerts.
About Salvador Brotons
Now in his 27th season leading The Vancouver Symphony Orchestra as Music Director and Conductor, musicians and classical music enthusiasts still delight in having Dr. Brotons lead them. Salvador Brotons was born in Barcelona into a family of musicians. He studied flute with his father and continued his musical studies at the Barcelona Music Conservatory where he earned advanced degrees in flute, composition and conducting. In 1985 he won a Fulbright scholarship and moved to the U.S. where he obtained a doctorate in music from Florida State University.
In addition to The VSO, in Spain he has been the music director and conductor of the Orquestra Simfònica de les Illes Balears "Ciutat de Palma" (1997-2001, 2009-2013) and the Orquestra Sinfónica del Vallés (1997-2002), and is presently the conductor of the Barcelona Symphonic Band. In 2005, he received the "Arts Council" award by the Clark County and the city of Vancouver and the Kiwanis Rose Award. He has guest-conducted orchestras internationally in countries like the US, Israel, France, Germany, China, Poland, South Korea, Mexico, Uruguay, Colombia, as well as the most prestigious Spanish orchestras.
About The VSO
Now in its 40th season, The VSO has been a cornerstone of Southwest Washington's arts community, providing world-renowned classical music, promoting young musicians, and opening doors to classical music for young audiences through events such as the annual In-School concerts, Young Artists Competition and various family-styled special events and performances. A full-sized professional orchestra of over 70 core members provides performs a multi-concert classical season every year. Symphony performances are at Skyview Concert Hall, 1300 NW 139th Street, Vancouver.
About our Sponsors
The VSO is generously supported by All Classical Portland, Oregon Public Broadcasting, The Community Foundation of SW Washington, The Columbian, The Heathman Lodge, PeaceHealth, and Michelle's Pianos.