VSO 3rd Annual Speaker Series Fundraising Dinner Featuring Lawrence Gilliard Jr.
January 12, 2019 @ 5:30 pm
$100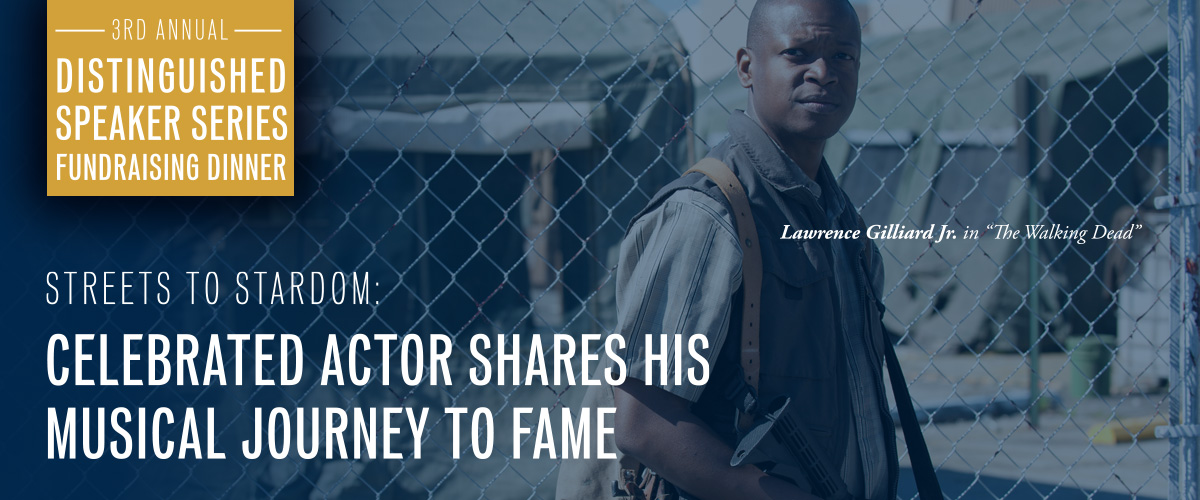 From Streets to Stardom
Star of Televisions The Wire and The Walking Dead Recounts His Musical Journey from Baltimore Projects to the Hollywood Screen
[Vancouver, Washington, November 30, 2018] American television, theater and film actor Lawrence Gilliard Jr. will be the honored guest at the VSO's 3rd Annual Distinguished Speaker Series. Join the VSO Saturday evening, January 12th, 2019 to share in the inspirational story of Gilliard's rise to fame. Gilliard is best known for his television role as D'Angelo Barksdale in the critically-acclaimed HBO series, The Wire. He is also known for his role as Bob Stookey in AMC's The Walking Dead as well as co-starring as Chris Alston in the HBO series, The Deuce.
Guests will hear about Gilliard's path to stardom while enjoying the finest in Pacific Northwest cuisine and spirits in partnership with The Heathman Lodge. Gilliard will speak to his experience as a young boy growing up in 1980's Baltimore, Maryland, where his discovery of music changed the course of his life. He will also perform some musical selections.
Hello Vancouver's Temple Lentz and OPB President Steve Bass to emcee this unforgettable event!
PLEASE NOTE: Check-in upon arrival at The Heathman Lodge. No physical tickets necessary.
VSO 3rd Annual Speaker Series Fundraising Dinner
Guest Speaker: Lawrence Gilliard Jr.
Saturday, January 12th, 5:30pm
The Heathman Lodge 7801 NE Greenwood Dr, Vancouver, WA 98662
Tickets: $100
RSVP by January 4th, 2019
About Lawrence Gilliard Jr.
Gilliard was born in New York City and moved to Baltimore, Maryland when he was seven years old. He played clarinet and studied classical music at Baltimore School for the Arts. After attending Juilliard School for three years as a clarinet performance student, Gilliard decided to pursue acting instead of music. He studied acting at the American Academy of Dramatic Arts, The Acting Studio – New York, and the Stella Adler Conservatory. Gilliard made his film debut playing the lead, Dennis Brown, in the 1991 independent film Straight Out of Brooklyn.
Gilliard has appeared on numerous television crime dramas such as Law & Order, Homicide: Life on the Street, The Wire, New York Undercover, and CSI: NY. Film roles include a love-struck ghetto teen in Lotto Land (1995), an earnest college football player in The Waterboy (1998), and a member of the Dead Rabbits in Gangs of New York (2002). Gilliard is also a stage actor. He received positive reviews for his role of Booth in a production of the Pulitzer Prize-winning play, Topdog/Underdog.
He joinedThe Walking Dead cast as a regular, playing Bob Stookey, as of season 4, appearing in thirteen episodes up until he got another job on a new show, which led to his character's death in the fifth season's third episode. Gilliard is married to Michelle Paress, who joined the cast of The Wire in its fifth season.
About The VSO
Now in its 40th season, The VSO has been a cornerstone of Southwest Washington's arts community, providing world-renowned classical music, promoting young musicians, and opening doors to classical music for young audiences through events such as the annual In-School concerts, Young Artists Competition and various family-styled special events and performances. A full-sized professional orchestra of over 70 core members provides performs a multi-concert classical season every year. Symphony performances are at Skyview Concert Hall, 1300 NW 139th Street, Vancouver.
About our Sponsors
The VSO is generously supported by All Classical Portland, Oregon Public Broadcasting, The Community Foundation of SW Washington, The Columbian, The Heathman Lodge, PeaceHealth, and Michelles Pianos.