The Vancouver Symphony Orchestra USA Begins Chamber Season With Piano Extravaganza
This highly popular chamber music concert is returning for its sixth season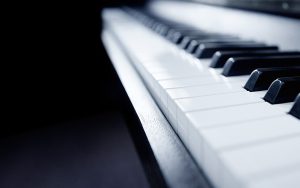 The Vancouver Symphony Orchestra USA begins its 2023/24 Chamber Music Series, presented by Oregon Public Broadcasting, with the audience-favorite Piano Extravaganza program on October 22, 2023. Held at First Presbyterian Church in Vancouver, WA, this celebration of the piano will feature long-time Vancouver pianists Cinda Redman, Elena Vozheiko-Wheaton, Kathy Charles, and Chamber Series co-founder Dr. Michael C. Liu. A standby of the Chamber Music Series, the Piano Extravaganza will be returning after a three-year hiatus which began with the 2020 closures.
"I'm thrilled that we can finally bring this program back to the chamber series," said VSO CEO Igor Shakhman. "It's an event that so many people have missed seeing on our calendar. We love this opportunity to highlight the brilliant pianists in our community."
Music will include works for two pianos, and one work for three pianos and additional keyboard accompaniment for a total of four keyboards on stage. The program will include music by Bach, Mendelssohn, Rachmaninov, Chabrier, Milhaud, two works by George Gershwin including the I Got Rhythm Variations and an arrangement of Porgy and Bess, as well as an arrangement of Bohemian Rhapsody by Queen for two pianos.
What: Piano Extravaganza
When: Sunday, October 22 at 3:00 pm
Where: 4300 Main St, Vancouver, WA 98663
Tickets: $25 ($10 students) 
About The Chamber Music Series
The VSO Chamber Music Series is presented by Oregon Public Broadcasting. The series was co-created by Dr. Michael C. Liu, VSO pianist and board member, and Dr. Igor Shakhman. VSO CEO and Principal Clarinet. The VSO Chamber Music Series is proud to provide enchanting chamber music in an intimate setting. Originally intended to be played in a small chamber, hall, or house, chamber music showcases musician virtuosity in melodies that are quite exposed in a typical ensemble of three to six musicians. Listeners enjoy an entirely new concert experience meant to speak to every individual in a comfortable space. The content of each VSO concert is unique, ranging from musical accompaniment for silent films and operatic soloists, to traditional string quartets and trios. Now in its eleventh season, the VSO Chamber Music Series continues to provide this matchless art form to the Vancouver community.
About The VSO
The VSO, now in its 45th season, has been a cornerstone of Southwest Washington's arts community, providing symphonic music of the highest caliber in live performances and through music education in schools, concert halls, and throughout the community. For more information, please visit vancouversymphony.org.
About our Sponsors
The VSO is generously supported by individual donors, The M. J. Murdock Charitable Trust, Realvest Corporation, United Grain Corporation, The Kuni Foundation, Oregon Public Broadcasting, the AC Hotel Mariott, The Columbian, Columbia Credit Union, Gravitate, PeaceHealth Southwest Medical Center, All Classical Portland, Dick Hannah, Michelle's Piano Co., Steinway & Sons, Pacific Office Automation, and The VIC.