2018 VSO Audition Announcement
July 9, 2018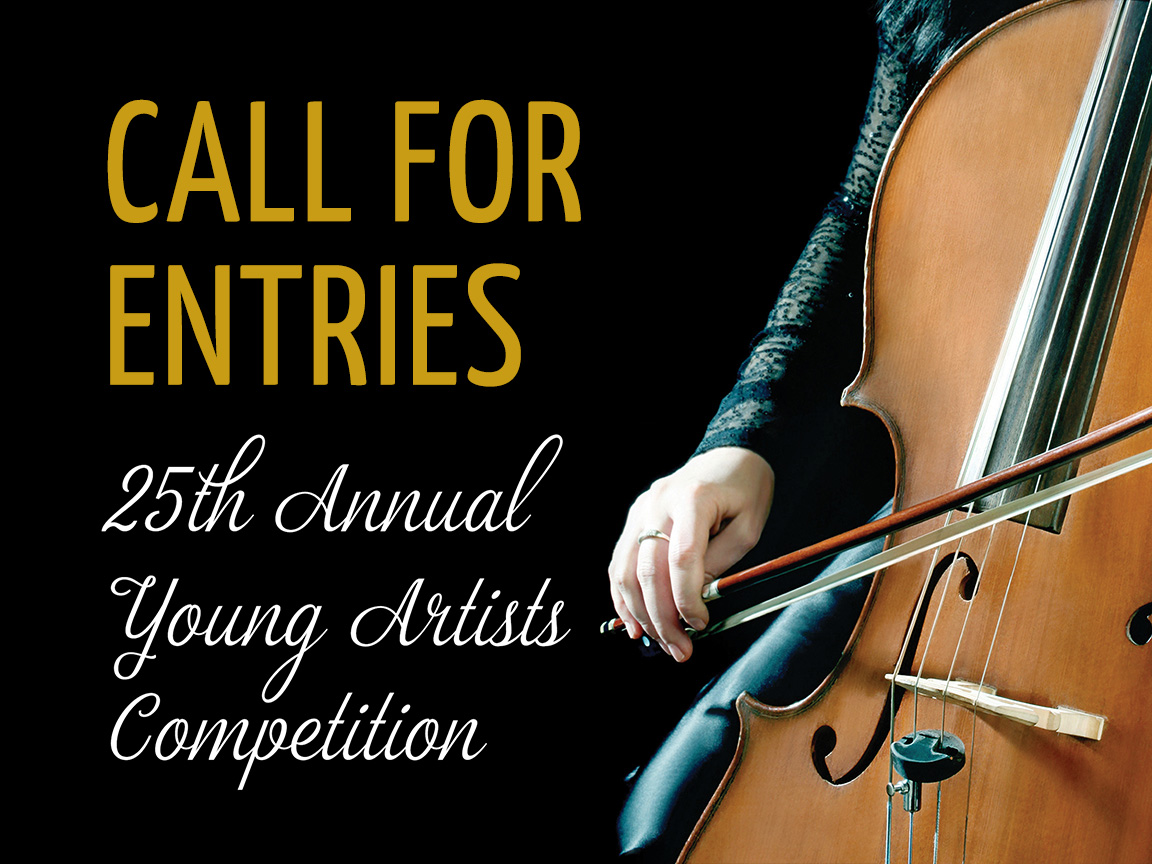 25th Annual Young Artists Competition
September 14, 2018
The Vancouver Symphony Orchestra launches its 8th season with The VSO Artist Showcase in the Historic Kiggins Theater in downtown Vancouver. This highly anticipated chamber music series opening concert features several VSO members, highlighting upcoming talent in the Classical Concerts of the 40th anniversary Season which opens in late September. The Kiggins Theatre on Main St. has been home to the Chamber Concert Series for seven seasons, and the VSO is thrilled to continue its partnership into the eighth season on September 9th.
Calendar Editors, please note:
Artist Showcase Chamber Concert
Sunday, September 9th, 3 PM
Kiggins Theatre, 1011 Main St, Vancouver, WA 98660
Tickets: $25, $10 for students with ID
Included on the roster of performers is local piano sensation, Dimitri Zhgenti, who has appeared as a Vancouver Symphony Orchestra guest artist in the past and will be featured as a piano soloist in a stunning Khachaturian Piano Concerto this November. On September 9th he will perform Robert Schumann's Symphonic Etudes Op. 13 and selections of Preludes by Sergei Rachmaninoff. VSO Concertmaster Eva Richey and Pianist Dr. Michael Liu will present virtuoso selections for Violin and Piano. Ms. Richey will be featured as one of the soloists in Maestro Brotons' Double Concerto for Violin and Cello in the VSO Season Finale in June. Clarinetist Steve Bass and pianist Dr. Michael Liu will perform Gerald Finzi's Five Bagatelles for clarinet and piano. Dr. Michael Liu will also accompany composer, bassoonist, and contrabassoonist Nicole Buetti, and flutists Darren and Corrie Cook.
"We anticipate a thrilling chamber music series season, starting with this opening concert featuring so many talented musicians," says VSO Executive Director and co-founder of the VSO Chamber Music Series Igor Shakhman.
The Kiggins Theatre offers a unique concert environment that is intimate and informal, with a fully staffed concession stand serving beer, wine, soft drinks, popcorn and vintage candy. The VSO is proud to continue this community collaboration, supporting a mission to provide high-caliber classical music and foster relationships within Vancouver. The event's grand piano is generously provided by Michelle's Piano Company in Portland.
About Dimitri Zhgenti
Dimitri Zhgenti was born in Tbilisi, Republic of Georgia. At the age of nine he began studying with Medea Javahia and later with one of the prominent professors of the Tbilisi State Conservatory, Rusudan Hodjava. In 2002 Dimitri moved to Vancouver, WA and later in 2004 began studying with renowned American concert pianist and artist-teacher Joanna Hodges at the Joanna Hodges Piano Studio.
Mr. Zhgenti was accepted into the Toradze Piano Studio at Indiana University, South Bend where he studied under world renowned concert pianist Alexander Toradze and concert pianist and Senior Lecturer of Music Ketevan Badridze. There he completed both Bachelor's and Master's degrees (2008-2014). Starting in 2011 Dimitri began studying with American award-winning pianist and teacher Mark Westcott and has completed additional study at the SUNY New Paltz Piano Summer festival under the artistic direction of Vladimir Feltsman. In 2015 Dimitri performed an audition for maestro Salvador Brotons. He was immediately recognized for his blazing virtuosity and musical intensity and was invited to perform with the Vancouver Symphony Orchestra of Vancouver, Washington.
After his debut with the VSO, Dimitri opened his piano studio and soon after joined the board of Vancouver Symphony Orchestra, Vancouver, WA. Dimitri continues to be active performer and is always looking for opportunities for his students to perform at different events and concerts
About Eva Richey
Eva began her career playing regularly with several orchestras including the Cincinnati Symphony, Columbus Symphony, West Virginia Symphony and Kentucky Symphony. She toured South America with the New World Symphony and played briefly with the Cape Town Symphony in South Africa. She attended the Aspen and Tanglewood Music Festivals, learning from such conductors as Leonard Bernstein, Seiji Ozawa, and Eiji Oue. Eva has also enjoyed playing popular music in concert events with The Moody Blues, Yes, Harry Connick Jr. and Rod Stewart. In 2001, Eva moved to the Northwest. She began working with the Oregon Symphony as Associate Music Librarian, as well as holding two one-year positions in the second violin section. Currently, Eva is on the adjunct faculty at Clark College as violin instructor and concertmaster of the Clark College Orchestra. She plays regularly with the Portland Opera, Portland Chamber Orchestra and Oregon Ballet Theatre.
About Dr. Michael Liu
Michael was born in the Chicago area and started piano at the age of 4. He was fortunate to have won several prizes and awards in his youth that allowed him the opportunity to perform in the U.S. and abroad. His primary teachers included the late George Banhalmi and English pianist Ian Hobson. He attended Tanglewood and Meadowmount summer music programs where he developed his love of chamber music. In his youth, he was featured as a soloist with the Chicago Symphony Orchestra, the Taipei City Symphony, the Sinfonia Orchestra of Chicago, Wheaton Symphony, and others. He was later able to perform as soloist with the Rochester Symphony, Guam Symphony, and Vancouver Symphony (VSO) here in Washington. Dr. Liu received both degrees in chemistry and music prior to attending the Mayo Medical School and Graduate School of Medicine in Rochester, MN. He worked on the island of Guam for 4 years helping to care for an underserved population prior to moving to Vancouver. He is a faculty/professor for the Family Medicine of SW Washington Residency Program at the PeaceHealth Medical Center enjoys the teaching of medicine in addition to the caring of patients. Dr. Liu has been a long-time orchestra member and board member for the VSO. He and his wife Nien-Wei have been tireless supports and advocates for the VSO and the arts in SW Washington. He is a member of several smaller music ensembles including the Lohr Trio, a violin-piano duo with Dr. Thomas Hwang, and also a doctor jazz band called the MED Trio Plus.
About Steve Bass
Steve Bass is a seasoned VSO member and this year's emcee at the upcoming 40th Anniversary Gala Fundraiser on September 29, 2018. He is also the President and CEO of Oregon Public Broadcasting. Bass is a graduate of Bucknell University in Lewisburg, Pennsylvania, where he received his bachelor's degree in economics and in music in 1979. He worked as a professional clarinet player and earned an MA in business from the University of Wisconsin-Madison in 1981. In addition to playing orchestral music, Steve enjoys performing chamber music and solo clarinet repertoire whenever he can fit it in in his busy schedule. Bass has served as president and CEO of Nashville Public Television since 1998.
About Darren and Corrie Cook
Flutists Darren and Corrie Cook are long time members of the VSO. The couple has also been featured in numerous VSO Chamber Series concerts and fundraiser performances with the VSO. They are fantastic musicians and collaborators as well as supporters of the organization.
About Nicole Buetti
Nicole has been a member of the VSO for several years and will have her composition, Odyssey Overture, featured in the opening concert for the VSO this September. Nicole has composed and arranged multiple pieces for smaller chamber ensembles and will have some of her compositions featured in this VSO-Kiggins Series concert as well. In addition to the VSO, she is the bassoonist and contrabassoonist in the Portland Columbia Symphony and the Salem Symphony and is a busy freelance player around Oregon and Washington. Abroad, she has performed with the Haydn Music Festival Orchestra in Vienna and as a soloist and chamber music artist with the Assisi Performing Arts Festival in Italy as well as working as a freelance musician in Los Angeles before moving north. She graduated summa cum laude with a double degree in music theory/composition and bassoon performance and has a Master's degree from the University of Northern Colorado in bassoon and contrabassoon performance. When not playing bassoon, Nicole is a partner and composer for Goes to Eleven Media, a music media company, and just released her 6th album of educational songs for kids entitled "Just Be You!" She has dozens of YouTube videos for her kid's songs, all performed by a huge cast of puppet characters. In addition to her children's music, Nicole has many published works for orchestra, band, chamber ensembles and commercial works for film and television. Nicole maintains a large private teaching studio, and has been teaching bassoon and composition both privately and at the University level for the last decade. She believes aspiring musicians should be open to all sorts of musical experiences.
About VSO Chamber Music Series
Now in its eighth season, the series was co-created by Dr. Michael C. Liu, the VSO pianist and board member, and Dr. Igor Shakhman, VSO Executive Director and Principal Clarinet to present great musicians playing in a very intimate setting. The content of each concert is unique, and most of the participating musicians are members of the VSO.