Don't miss VSO's Summer Concert at Esther Short Park
July 18, 2017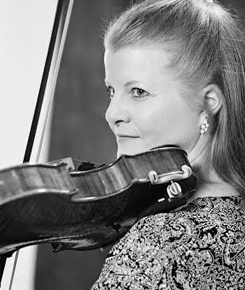 Eva Richey — Concertmaster, violin
July 20, 2017
Vancouver Symphony Orchestra to hold free concert
Symphony director strives for world-class performances on a shoestring budget
What the world needs now, Igor Shakhman said, is "an unforgettable, transformational experience."

Supplying such experiences is the mission of the Vancouver Symphony Orchestra, the group's executive director and lead clarinetist said.

"World-class is what we need to be, every time," Shakhman said. "When I feel magic onstage, and I look out and see a sold-out house, I know we're achieving our goal."

You can enjoy a free sample of that transformational magic on Thursday evening in Esther Short Park, as the group is led through a people-pleasing program by maestro Don Appert, an award-winning conductor-composer and head of the Clark College music department.

Selections will include such rousing film scores as "Star Wars" and "Lord of the Rings"; John Philip Sousa's patriotic march "Stars and Stripes Forever" and Aaron Copland's infectious cowboy ballet "Hoedown"; and, the lively and fun "Overture to Die Fledermaus" by Johann Strauss and "Slavonic Dances" by Czech-turned-American Antonin Dvorak.

Also transformational will be a hands-on opportunity for children before the concert: from 5-6 p.m., Beacock Music will host a musical instrument "petting zoo," where young folks can get friendly with real orchestra instruments under expert supervision.
Read the entire Columbian article by Scott Hewitt here :
http://www.columbian.com/news/2017/jul/14/vancouver-symphony-orchestra-to-hold-free-concert/