Eva Richey began her violin studies at age 8. She earned Bachelor and Master's degrees in violin performance from the University of Cincinnati College-Conservatory of Music.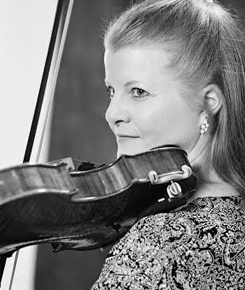 Eva began her career playing regularly with several orchestras including the Cincinnati Symphony, Columbus Symphony, West Virginia Symphony and Kentucky Symphony. She toured South America with the New World Symphony and played briefly with the Cape Town Symphony in South Africa. She attended the Aspen and Tanglewood Music Festivals, learning from such conductors as Leonard Bernstein, Seiji Ozawa, and Eiji Oue. Eva has also enjoyed playing popular music in concert events with The Moody Blues, Yes, Harry Connick Jr. and Rod Stewart.
In 2001, Eva moved to the Northwest. She began working with the Oregon Symphony as Associate Music Librarian, as well as holding two one-year positions in the second violin section.
Currently, Eva is on the adjunct faculty at Clark College as violin instructor and concertmaster of the Clark College Orchestra. She plays regularly with the Portland Opera, Portland Chamber Orchestra and Oregon Ballet Theatre.