Young Artists Concert / Classical Concert Series
April 13, 2019

-

April 14, 2019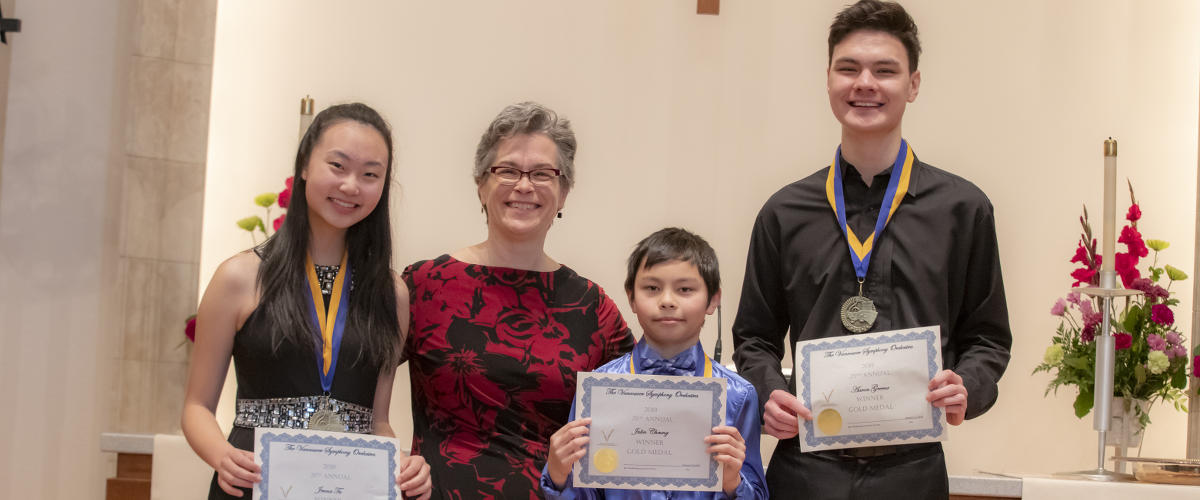 Young Artists Concert
DETAILS
Three Exceptional VSO Young Artists Winners Debut with The Vancouver Symphony Orchestra April 13 & 14
Maestro Salvador Brotons Leads the VSO in Rimsky-Korsakov Masterwork, Scheherazade
The Vancouver Symphony presents its most- anticipated concert of the season, featuring the three gold medalists of the 25 th Annual Young Artists Competition. These artists will perform with the Vancouver Symphony Orchestra for the first time, bringing; Ravels virtuosic Tzigane, Vivaldis brisk La Notte for flute, and Rachmaninoffs monumental Piano Concerto No. 2 in c minor. After intermission, Maestro Brotons and the VSO share the majesty of One Thousand and One Nights in the timeless Rimsky-Korsakov masterpiece, Scheherazade. This years Gold Medal Winners, violinist Aaron Green, flutist Julin Cheung, and pianist Jenna Tu, won the right to appear with the VSO following their extraordinary performances in front of a capacity-crowd at a competition on January 13 th at Trinity Lutheran Church. The VSO announces its 2019-2020 Classical Concert Season during this concert. Special season subscription discounts are available only for those in attendance.
Calendar Editors, please note: Young Artists Concert Saturday, April 13 th , 3 PM and Sunday April 14 th , 7 PM
Skyview Concert Hall
1300 NW 139th St., Vancouver, WA, 98685
Tickets: Starting at $34, $10 for students with ID Find out more at vancouversymphony.org or (360) 735-7278
We are thrilled to present this exciting debut of the next generation of classical performers. The level of artistry of all three Young Artist Winners is nothing short of astounding! And of course, Scheherazade is an audiences all-time favorite masterwork, says VSO Executive Director Dr. Igor Shakhman.
Piano generously provided by Michelles Pianos. The performances are Saturday, April 13th, 3 PM and Sunday April 14 th, 7 PM at Skyview Concert Hall, located at 1300 NW 139th Street in Vancouver, WA. Tickets are available for this concert and all 2018-2019 events at vancouversymphony.org or (360) 735-7278.
About Aaron Greene
Aaron is a 17-year-old senior at Union High School in Camas, WA. He started playing the violin at 8 years old, and currently studies with Carol Sindell. He gave his solo debut with the MetroArts orchestra at age 15, as a winner of the 2017 Van Buren Concerto Competition. Aaron also played solo with the Portland Youth Philharmonic, as the winner of the 2018 PYP Soloist Competition. He has led several ensembles as concertmaster, including the Portland Youth Philharmonic, PYPs Camerata, and the ensembles of music organization Olivenbaum. Aaron has also attended music festivals such as the National Symphony Orchestra Summer Music Institute and Interlochen Arts Camp.
About Julin Cheung
Julin, 11, is a 6th grader at Ridgecrest Elementary in Shoreline, WA. When he was six, he declared he wanted to play the flute after hearing Sir James Galway perform The Flight of the Bumble Bee on the radio. Two years later, he became the youngest woodwind player at the Seattle Youth Symphony. Julin is the first prize winner of many local and international contests, most recently the Severino Gazzelloni Flute Competition in Italy. He has been invited to play for Sir James Galway in Switzerland and Jeffrey Khaner at Curtis Institute of Music. Julin is a student of Demarre McGill.
About Jenna Tu
Jenna Tu, 16, currently studies piano with Dr. Renato Fabbro. Her most recent honors include first prizes at the 2018 Oregon MTNA Senior Piano Competition, 2018 Marjorie Trotter Memorial Scholarship Competition, 2018 American Protg International Concerto Competition, 2018 Steinway & Sons Competition (Senior Division), 2017 Oregon MTNA Senior Piano Competition, and others. Jenna has performed as a first prize winner with Coeur dAlene, Central Oregon, and other symphony orchestras. She has also performed at Carnegie Halls Weill Recital Hall, and the 2014 Colburn Music Academy Piano Festival. She was also selected to perform in masterclasses for Angela Cheng, Joseph Moog, among others.
About Salvador Brotons
Now in his 28th season leading The Vancouver Symphony Orchestra as Music Director and Conductor, musicians and classical music enthusiasts still delight in having Dr. Brotons lead them. Salvador Brotons was born in Barcelona into a family of musicians. He studied flute with his father and continued his musical studies at the Barcelona Music Conservatory where he earned advanced degrees in flute, composition and conducting. In 1985 he won a Fulbright scholarship and moved to the U.S. where he obtained a doctorate in music from Florida State University. In addition to The VSO, in Spain he has been the music director and conductor of the Orquestra Simfnica de les Illes Balears Ciutat de Palma (1997-2001, 2009-2013) and the Orquestra Sinfnica del Valls (1997-2002), and is presently the conductor of the Barcelona Symphonic Band. In 2005, he received the Arts Council award by the Clark County and the city of Vancouver and the Kiwanis Rose Award. He has guest-conducted orchestras internationally in countries like the US, Israel, France, Germany, China, Poland, South Korea, Mexico, Uruguay, Colombia, as well as the most prestigious Spanish orchestras.
About The VSO
Now in its 40th season, The VSO has been a cornerstone of Southwest Washington's arts community, providing world-renowned classical music, promoting young musicians, and opening doors to classical music for young audiences through events such as the annual In- School concerts, Young Artists Competition and various family-styled special events and performances. A full-sized professional orchestra of over 70 core members provides performs a multi-concert classical season every year. Symphony performances are at Skyview Concert Hall, 1300 NW 139th Street, Vancouver.
About our Sponsors
The VSO is generously supported by individual donors, Morel Ink, All Classical Portland, Oregon Public Broadcasting, The Community Foundation of SW Washington, The Columbian, The Heathman Lodge, PeaceHealth, and Michelles Pianos.