Nine Talented Young Musicians Advance to Final Round of VSO's 26th Annual Young Artists Competition
December 27, 2019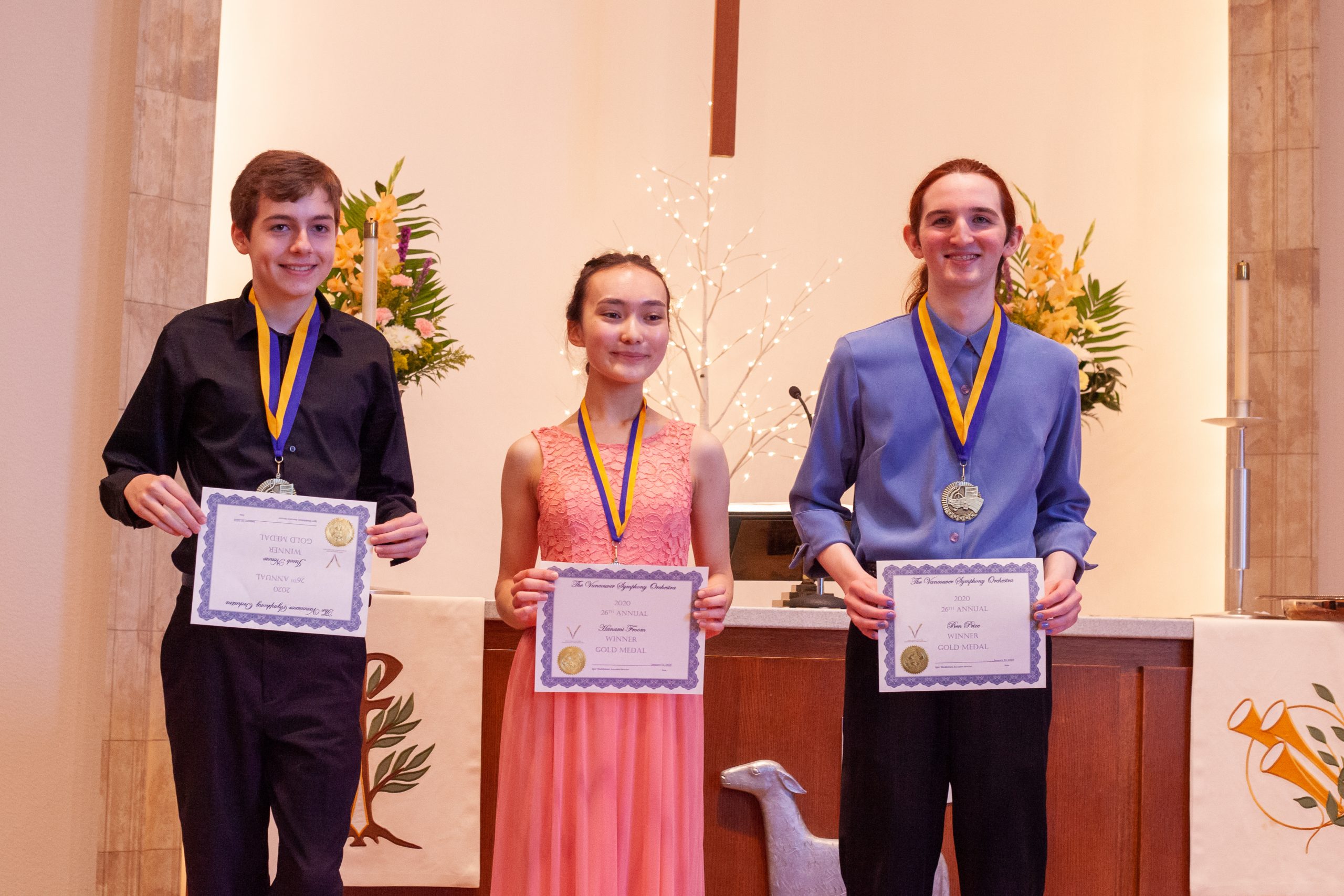 Three Outstanding Gold-Medalists from the 26th Annual Young Artists Competition to Perform with Vancouver Symphony Orchestra in April
January 16, 2020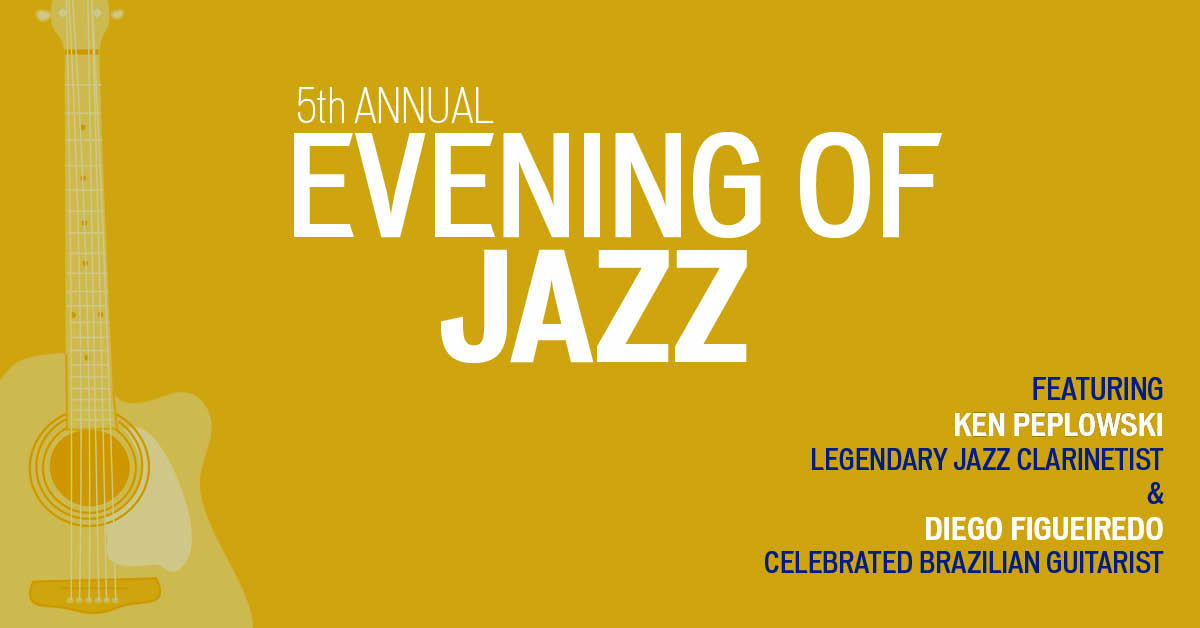 The Vancouver Symphony Orchestra is thrilled to announce its 5th Annual Evening of Jazz on March 29, 2020 at 5:30 p.m. at Warehouse '23 on the Vancouver waterfront. Back for a 5th consecutive year is "brilliantly entertaining" (DownBeat Magazine) and "arguably the greatest living jazz clarinetist" (Russell Davies, BBC2) Ken Peplowski. Joining him is sensational Brazilian guitarist Diego Figueiredo who has twice been awarded as one of the greatest guitarists in the world at the "MONTREUX JAZZ FESTIVAL".
Guests are invited to experience Mr. Peplowski and Mr. Figueiredo's electrifying performance while enjoying the finest cuisine and spirits the Pacific Northwest has to offer. Their music is guaranteed to get everyone up on the dance floor.
About Ken Peplowski
"When you grow up in Cleveland, Ohio, playing in a Polish polka band, you learn to think fast on your feet", says Ken Peplowski, who played his first pro engagement when he was still in elementary school. "From my first time performing in public, I knew I wanted to play music for a living." Ken Peplowski has recorded over 70 CDs as a soloist, and close to 400 as a sideman – some of the artists he's performed/ recorded with include Charlie Byrd, Mel Torme, Rosemary Clooney, Erich Kunzel and the Cincinnati Pops, Hank Jones, Peggy Lee, Bill Charlap, Woody Allen, Benny Goodman, and Madonna. He travels at least half of every year, playing clubs, concert halls, colleges, and pops concerts. He has headlined the Hollywood Bowl, Carnegie Hall, the Blue Note, and Dizzy's Club amongst many other venues. Ken's CDs on the Capri label, "Noir Blue", "In Search Of ", and "Maybe September" were released to great critical acclaim and massive airplay. He has recorded music as diverse as Italian and French folk songs, avant-garde jazz, pop, and classical music; he recorded the Darius Milhaud Clarinet Concerto with an orchestra in Sofia, Bulgaria, and was a featured soloist (playing Mozart) in 2015 at the Siletz Bay Music Festival in Oregon, where he premiered a new concerto in 2016, written for him by Dick Hyman. Ken was the musical director of the Oregon Festival Of American Music (OFAM) for eight years, and is a longtime performer/consultant to The Jazz Cruise, where he was elected into the Jazz Cruise Hall Of Fame in 2013. "Mr. Peplowski sounds the way (Benny) Goodman might if he had kept evolving, kept on listening to new music, kept refining his sound, polishing his craft, and expanding his musical purview into the 21st century." – Will Friedwald in The Wall Street Journal, December 2012.
In 2014, Ken was the recipient of the Sarasota Jazz Festival's "Satchmo" award, given to him for his "unique and enduring contribution to the living history of jazz"; in March, Ken was also the guest of honor at a "Highlights In Jazz" concert in NYC saluting him for "his matchless musical achievements". He was the 2015 recipient of HotHouse Magazine's "Fans' Decision Jazz Award" on clarinet.
In 2015, Mark Stryker of the Detroit Free Press had this to say about Ken Peplowski's appearance at the Detroit International Jazz Festival: "Best repertoire diving: Clarinet ~ Ken Peplowski, whose quartet played a joyful set Sunday under the blazing sun, resurrected two gorgeous ballads I've never heard played live: Billy Strayhorn's "Ballad for Very Sad and Very Tired Lotus Eaters" and Noel Coward's "I'll Follow My Secret Heart." The latter contained the most expressive reading of a melody I heard during the festival, as Peplowski's long-breathed phrasing suggested Frank Sinatra."
Ken's new CD is called "Sunrise" and it's a big band record of new arrangements written exclusively for him, plus some reworking of classic arrangements. His upcoming CD is a duo record with Brazilian guitarist Diego Figuereido entitled "Amizade".
Ken is currently the artistic director of the Sarasota Jazz Festival, the Newport Beach Jazz Party, and the Newport, Oregon Jazz Festival. Ken Peplowski has also been bestowed the 2018 "Creative Arts Prize In Recognition Of Outstanding Contribution In The Field Of The Creative Arts" by the Polish American Historical Association.
About Diego Figueiredo
GRAMMY NOMINATED GUITAR PLAYER Diego Figueiredo is a new star of the guitar world. He is only 39, and he has release 26 Cds, 3 DVDs, and he has been playing in more than 60 contries around the world. He is winner of several important competitions like Montreux Jazz Competition, and some others. Diego is now presenting his concert "From the Classical to the Jazz". It is a fusion between Jazz, Bossa nova and Classical music. Diego has a unique interpretation, with a lot of technique, much emotion, and his show has been a great success about the audience.
Diego Figueiredo was born in Franca, Brazil, in 1980, and at the age of 4, he used to strike poses carrying his small guitar. At six, he got a mandolin, which was kept in a very special place in his house. Diego played many instruments before choosing the electric guitar when he was twelve, playing in theaters and local pubs, revealing the great art of improvising and harmonizing. At 15, he conquered theaters and nightclubs in many different Brazilian states, playing solo or with renowned musicians.
Besides being a guitar player, Diego is a producer, arranger, orchestrator, and multi-instrumentalist.
Having received awards twice at the "MONTREUX JAZZ FESTIVAL" as one of the greatest guitarists in the world, Diego Figueiredo performs an amazing concert uniting technique and emotion in a fusion of Brazilian music and jazz. Diego Figueiredo presents the most requested show of Brazilian music.
With a variety of work already released, Diego is doing shows on the most important stages around the world enchanting and charming the public wherever he goes with his unique touch.
Diego has collaborated and performed with names like Gilberto Gil, Joao Bosco, Roberto Menescal, Toquinho, Janis Siegel, Stanley Jordan, Joao Donato, Larry Coryell, Ken Peplowski, Lewis Nash, John Clayton, Cyrille Aimée, Jeff Hamilton, Terell Stafford, Wycliffe Gordon, Bill Cunliffe, Dick Hyman and many others.
He has performed in great places like Montreux Jazz Festival, Hong Kong Jazz Festival, Rio das Ostras Jazz Festival (Brazil), Oakville Jazz Festival (Canada), La Paz Festijazz, Jarasum Jazz Festival (Korea), Copenhagen Jazz Festival, Douro Jazz ( Vail Jazz Party, Syracuse Jazz Festival, Aspen Jazz Series, Dizzy's Club NY, Birdland NY, Joe's Pub NY, Jazz Alley, Guanabara (London), Harlem Jazz Festival (Netherlands), Port Townsend Jazz, Django Fest, Zoellner Arts Center, Center Stage Reston, Bourbon Street (Brazil), Jazz Wave, Jazzhus Montmartre (Copenhagen), Quasimodo (Berlin), Zhuhai Jazz Festival (China), Vitello's Jazz, Miami Festival, Jazz on the Platz, Bali Jazz, Guitar Masters (German) and hundreds more.