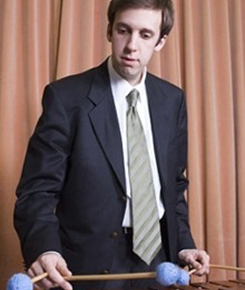 Dr. Brian Gardiner, Principal percussion
April 3, 2018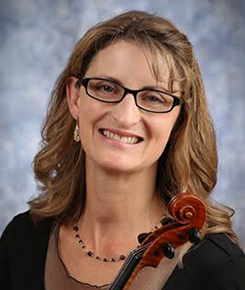 Tracie Andrusko, Principal 2nd violin
June 4, 2018
The Vancouver Symphony Orchestra's 40th Anniversary Season Celebrates Virtuosity and Variety in 2018-2019
Salvador Brotons returns for his 28th season as Music Director and Conductor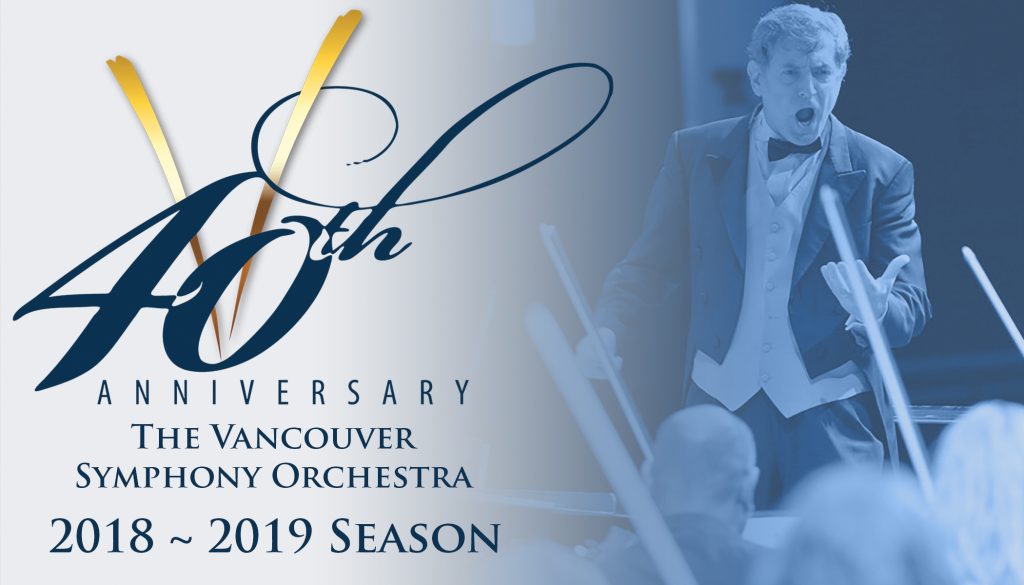 https://youtu.be/rNQ0gnuykv8 (2018-2019 Season Trailer)
(Vancouver, WA) It's a celebration 40 years in the making as The Vancouver Symphony Orchestra is proud to announce its 40th Anniversary season beginning this September. In 2018-2019, we welcome the return of violin virtuoso Mayuko Kamio, Gold Medalist of the 2007 International Tchaikovsky Competition and local favorite, pianist Dimitri Zhgenti, along with critically acclaimed pianist Ignasi Cambra, six-time international piano competition winner. Our Spring Pops concert highlights the "Golden Girl" of stage and screen, Susannah Mars, and the multi-award winning Portland Gay Men's Chorus. The season will also include the return of the December Holiday Pops concert and the U.S. premiere of Maestro Broton's Double Concerto for Violin and Cello, performed by VSO Concertmaster Eva Richey and VSO Principal Cello Dieter Ratzlaf.
2018-2019 SEASON:
July 26, 2018
Free Outdoor Concert at Esther Short Park
Part of the Riverview Community Bank Six to Sunset series.)
Sept 29 & 30, 2018
Aurora Overture                                                            Buetti
Violin Concerto                                                             Barber
Mayuko Kamio, violin
100th Anniversary Celebration                                      Bernstein
Excerpts from Candide & West Side Story
November 3 & 4, 2018
The Roman Carnival Overture                                     Berlioz
Piano Concerto                                                            Khachaturian
Dimitri Zhgenti, piano
Symphony No. 3                                                          Mendelssohn
December 8 & 9, 2018
A Holiday Concert in collaboration with Columbia Dance Company features highlights from The Nutcracker and Swan Lake, Viennese Waltzes, Polkas and other seasonal favorites.
January 26 & 27, 2019
The VSO On Broadway
Excerpts from An American in Paris                           Gershwin
Susannah Mars, vocalist ~ Portland Gay Men's Choir
February 23 & 24, 2018
Overture from The Magic Flute                                   Mozart
Piano Concerto #3                                                      Beethoven
Ignasi Cambra, piano
Symphony No. 4                                                          Beethoven
April 13 & 14, 2019
Young Artist Winners                                                  TBA
Scherezade                                                                 Rimsky-Korsakov
June 1 & 2, 2019
Double Concerto for Violin and Cello (U.S. Premiere) Brotons
Eva Richey violin and Dieter Ratzlaf, cello     
Pictures at an Exhibition                                              Mussorgsky
Each symphony concert is performed at Skyview Concert Hall in Vancouver Saturdays at 3 pm and Sundays at 7 pm. Pre-concert talks begin one hour before scheduled performance times.
Guest Artists
Mayuko Kamio, violin
The New York Times has called violinist Mayuko Kamio an "exciting young musician" and "a radiant talent." Ms. Kamio made her concerto debut in Tokyo at the age of ten under the baton of Charles Dutoit, in a concert broadcast on NHK television. Since then, she has appeared as soloist with the Boston Pops conducted by Keith Lockhart, the Tonhalle Orchestra in Zurich with Mstislav Rostropovich, the Israel Philharmonic under Zubin Mehta, and in Japan with nine major orchestras. She has toured with the National Philharmonic of Russia, the Budapest Festival Orchestra, the Munich Philharmonic, the Israel Philharmonic, the Oviedo Symphony Orchestra of Spain.
Dimitri Zhgenti, piano
Dimitri was born in Tbilisi, Republic of Georgia. At the age of nine, he began studying with Medea Jahavia and later with one of the prominent professors of the Tbilisi State Conservatory, Rusudan Hodjava. In 2002, Dimitri moved to Vancouver and in 2004 began studying with renowned American concert pianist and teacher, Joanna Hodges. He was accepted into the Toradze Piano Studio at Indiana University, South Bend where he studied under world renowned pianist Alexander Toradze, who played with The VSO this past season. In 2016, following his triumphant performance of Prokofiev's Piano Concerto No. 1 with The VSO, he opened his piano studio and joined The VSO as a board member.
Susannah Mars, vocalist
Dubbed the "Golden Girl of Stage and Screen", Susannah is a Resident Artist at Artists Rep where she has performed in 12 productions. She's been a member of the Portland theatre scene since moving here from Los Angeles in 1988. She has starred in seven television series, including The Librarians, Intruder and Grimm. Playing Mrs. Lovett at Portland Opera's Sweeney Todd was a recent joy, and she loves participating in new works, such as in Michelle Horgan's Scarlet at Portland Playhouse this past January. She has appeared with the Oregon, Seattle and Sun River symphonies.
Ignasi Cambra, piano
Born in Barcelona, Mr. Cambra was a first place winner at the Verga International Piano Competition, Vilafranca Piano Competition, Ciudad de Murcia International Piano Competition, Ciudad de Toledo International Piano Competition, Barcelona Piano Competition and Barcelona Chamber Music Competition. Cambra's performances have taken him to Carnegie Hall, the Kennedy Center in Washington DC, the United Nations in New York City, Auditori and Palau de la Música in Barcelona, as well as the Ravinia Festival's Bennet Gordon hall in Chicago, the Mariinsky concert hall in St. Petersburg, and many others.
Eva Richey, violin
VSO concertmaster Eva Richey began her violin studies at age 8. She earned Bachelor and Master's degrees in violin performance from the University of Cincinnati College-Conservatory of Music. Eva began her career playing regularly with several orchestras including the Cincinnati Symphony, Columbus Symphony, West Virginia Symphony and Kentucky Symphony. She toured South America with the New World Symphony and played briefly with the Cape Town Symphony in South Africa. She attended the Aspen and Tanglewood Music Festivals, learning from such conductors as Leonard Bernstein, Seiji Ozawa, and Eiji Oue. Eva has also enjoyed playing popular music in concert events with The Moody Blues, Yes, Harry Connick Jr. and Rod Stewart.
Dieter Ratzlaf, cello
The VSO's principal cello, Dieter Ratzlaf began his studies at the age of seven and performed with the Portland Youth Philharmonic for six years, touring Europe with the orchestra in 1989. Dieter received his Master of Arts in Cello Performance at the San Francisco Conservatory of Music. He has appeared with multiple arts organizations in the Pacific Northwest including the Oregon Symphony, Eugene Symphony, Portland Opera Orchestra and the Oregon Ballet Theater Orchestra (10 seasons). Dieter was appointed principal cello of the Vancouver Symphony Orchestra in 2005.
About Salvador Brotons
Now in his 28th season leading The Vancouver Symphony Orchestra as Music Director and Conductor, musicians and classical music enthusiasts still delight in having Dr. Brotons lead them. Salvador Brotons was born in Barcelona into a family of musicians. He studied flute with his father and continued his musical studies at the Barcelona Music Conservatory where he earned advanced degrees in flute, composition and conducting. In 1985 he won a Fulbright scholarship and moved to the U.S. where he obtained a doctorate in music from Florida State University. In addition to The VSO, he is presently the conductor of the Barcelona Symphonic Band in Spain. In 2005, he received the "Arts Council" award by the Clark County and the city of Vancouver and the Kiwanis Rose Award. He has guest-conducted orchestras internationally in the US, Israel, France, Germany, China, Poland, South Korea, Mexico, Uruguay and Colombia, as well as with the most prestigious Spanish orchestras.
About The VSO
Entering its 40th season, The VSO has been a cornerstone of Southwest Washington's arts community, providing world-renowned classical music, promoting young musicians, and opening doors to classical music for young audiences through events such as the annual In-School concerts, Young Artists Competition and various family-styled special events and performances. A full-sized professional orchestra of over 70 core members provides performs a multi-concert classical season every year. Symphony performances are at Skyview Concert Hall, 1300 NW 139th Street, Vancouver.
About our Sponsors
The VSO is generously supported by All Classical Portland, Oregon Public Broadcasting, The Community Foundation of SW Washington, The Columbian, and Michelle's Pianos. Tickets for all VSO symphony concerts, The VSO Chamber Series and all VSO events are on sale here or by calling our offices at (360) 735-7278.