A Message From Maestro Brotons
March 25, 2020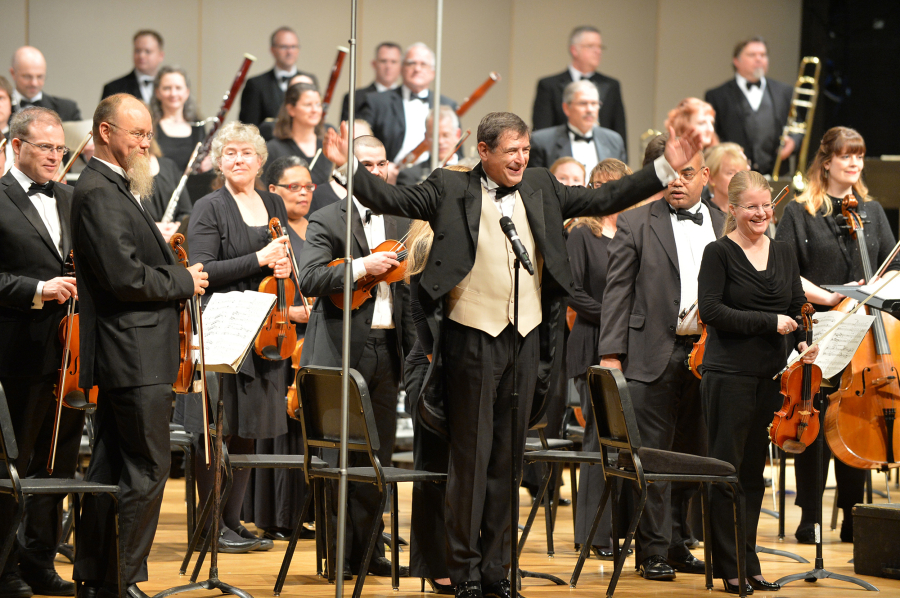 Maestro Brotons Receives Lifetime Achievement Award From Clark County Arts Commission
September 28, 2020
Celebrating Maestro Salvador Brotons 30th season with the VSO and the return of live music in the concert hall
The Vancouver Symphony Orchestra is thrilled to announce its 2020/21 classical concert season, celebrating Maestro Salvador Brotons' 30th anniversary with the VSO and an extraordinary world of music. Maestro Brotons will lead the 70+ member orchestra in performances of both new and timeless masterpieces and feature world renowned guest artists from near and far.
This season the VSO journeys across the globe with music hailing from France, Spain, Russia and more. Legendary piano virtuoso Alexander Toradze returns as the season begins with an all-Russian repertoire including works by Stravinsky and Shostakovich. Audiences will experience the gardens of Spain in Rodrigo's Concierto de Aranjuez featuring award-winning classical guitarist Adam Levin, and the glorious Symphonie Fantastique by French composer Hector Berlioz. Later in the season, Tony nominee and Emmy Award-winning actress, singer and recording artist Liz Callaway will perform some of Broadway's greatest hits. Next, the Portland State University Choir will take the stage with the VSO in a performance of Mahler's monumental tour de force Symphony No. 2. In addition to these exciting works, the VSO will be presenting the music of Tchaikovsky, Sibelius and, of course, Beethoven in celebration of his 250th birthday. The season concludes with internationally acclaimed concert violinist, recording artist, educator and philanthropist Rachel Barton Pine featured in Korngold's Violin Concerto.
NEW THIS SEASON
• Concerts will now be held at 7 pm on Saturday and 3 pm on Sunday at Skyview Concert Hall, thanks to an overwhelming survey response from audience members favoring a change in performance times.
• Audience members who purchase reserved subscriptions now get to choose the best seats in the house in our new reserved seating section, theirs to keep for the entire season. For more information, visit vancouversymphony.org or call 360-735-7278.
2020/21 Season
Russian Extravaganza
Stravinsky Piano Concerto*
Shostakovich Piano Concerto No. 2*
Tchaikovsky Symphony No. 2
*Alexander Toradze, piano
Saturday, September 26 at 7 pm
Sunday, September 27 at 3 pm

Beethoven Fifth Symphony
Brotons Symphony No. 4
Beethoven Symphony No. 5
Saturday, November 7 at 7 pm
Sunday, November 8 at 3 pm

A Broadway Holiday Celebration
*Liz Callaway
Saturday, December 12 at 7 pm
Sunday, December 13 at 3 pm

Mahler's Second Symphony
Mahler Symphony No. 2*
*Portland State University Choir
Saturday, January 16 at 7 pm
Sunday, January 17 at 3 pm

Rodrigo's Concierto De Aranjuez
Chabrier Fete Polonaise
Rodrigo Concierto de Aranjuez*
Berlioz's Symphonie Fantastique
*Adam Levin, classical guitar
Saturday, February 27 at 7 pm
Sunday, February 28 at 3 pm

Sibelius' First Symphony
Young Artist TBA
Sibelius Symphony No. 1
Saturday, April 24 at 7 pm
Sunday, April 25 at 3 pm

Korngold's Violin Concerto
Chadwick Melpomene Overture
Korngold Violin Concerto*
Hovhaness Symphony No. 50
*Rachel Barton Pine, violin
Saturday, May 22 at 7 pm
Sunday, May 23 at 3 pm
Subscriptions are available for purchased online at vancouversymphony.org or by calling the VSO box office at 360-735-7278.
Now more than ever, subscribing early helps us have the financial means to continue to provide symphonic music for you and our other valued audience members in the future.


PLEASE NOTE:
As we prepare for this exciting 2020/21 season, the safety of our patrons and musicians is our top priority. We will continue to monitor the latest developments of the COVID-19 pandemic and are prepared to make any necessary adjustments to assure that the season can be a safe one and that your subscription investment is protected.