27th Annual Young Artist Competition Winners Announced
October 19, 2021
VSO Chamber Series Presents "Ramona" starrying Dolores Del Rio
January 5, 2022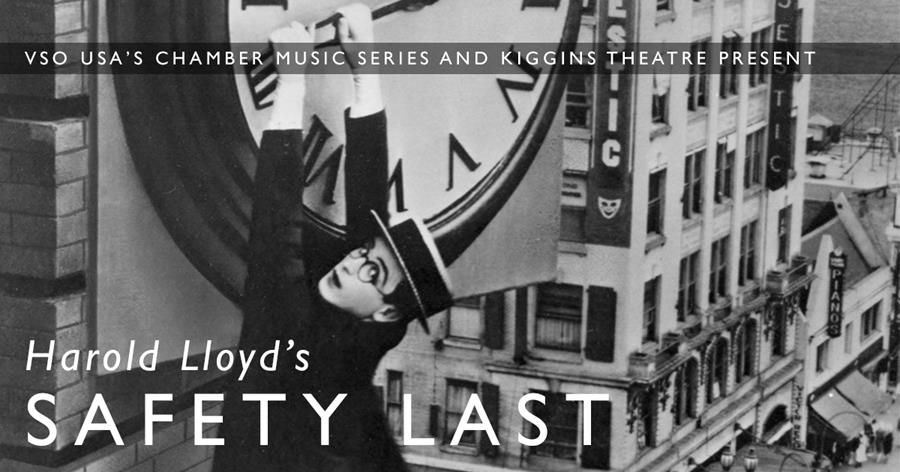 Harold Lloyd's Safety Last
Thursday, November 18th at 7:00pm
Kiggins Theatre
1011 Main Street, Vancouver, WA 98660
Details
The Vancouver Symphony's Chamber Music Series welcomes silent film music expert and pianist Rodney Sauer back to Vancouver for a special showing of Harold Lloyd's legendary comedy Safety Last (1923) at the historic Kiggins Theatre Thursday, November 18th. The concert begins at 7 PM with a special overture, followed by the evening's exciting and hilarious film accompanied by live music as it would have been heard in the silent film theaters of the 1920s. Featuring musicians Rodney Sauer, Eva Richey, Dieter Ratzlaf, Bruce Dunn, and Igor Shakhman.
This special event marks the triumphant return of the VSO's Chamber Music Series after a 19-month absence! In Safety Last, Harold Lloyd is a store clerk trying to convince his girlfriend back home that he's made it big. When his idea for a publicity stunt—hiring an acrobat to climb the outside of the department store—goes wrong, he has to climb the building himself. The movie is by turns hilarious and terrifying, as Lloyd runs into trouble on his climb, at one point leaving him memorably hanging from the hands of an enormous clock.
Safety Precautions
Masks are required for all audience members, regardless of vaccination status. Proof of vaccination or negative COVID test within 72 hours will be required for entry. Two physicians on the VSO Board of Directors–Drs. Michael Liu and David Smith–helped to develop the safety protocols for the musicians in coordination with the Washington Health Department.
About Our Sponsors
THE VSO IS GENEROUSLY SUPPORTED BY INDIVIDUAL DONORS
The M. J. Murdock Charitable Trust / All Classical Portland / Oregon Public Broadcasting / The Community Foundation of Southwest Washington / The Columbian / Dick Hannah Dealerships / ENT.Office.org / IsaacDSmith.com / PeaceHealth Southwest Medical Center / Propel Insurance / MedicareHelpNow / Opsahl Dawson CPAs / New Blueprint Partners / Realvest Corporation / Michelle's Piano Co.