VSO Chamber Series Presents "Ramona" starrying Dolores Del Rio
January 5, 2022
VSO Chamber Series Features Two Outstanding Orchestra Soloists
March 30, 2022
Arranger Rodney Sauer returns to enthusiastic audiences after two triumphant silent film concerts this season.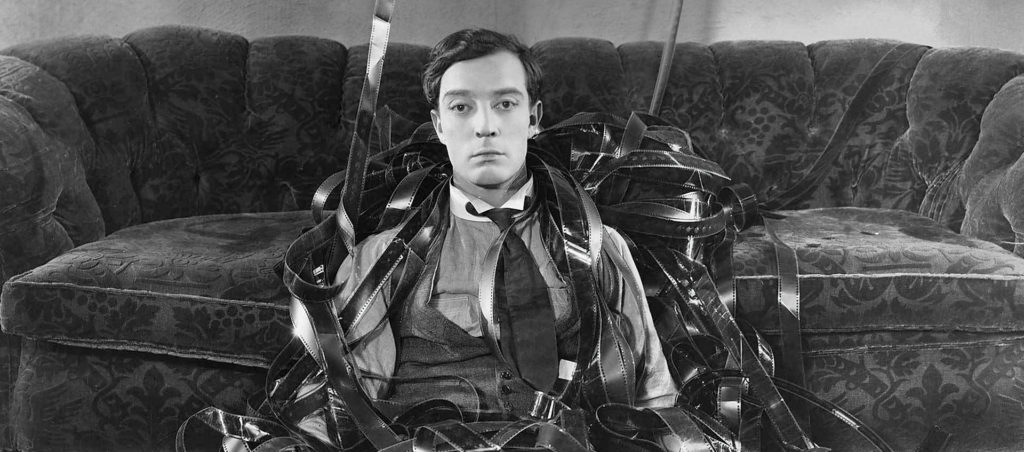 The Vancouver Symphonys Chamber Music Series returns for the Back To The Movies concert series finale of 2022 at the historic Kiggins Theatre on Thursday, April 7th. The concert begins at 7 PM with comedy legend Buster Keatons 1924 masterpiece Sherlock Jr. accompanied by live music as it would have been heard in the silent film theaters of the 1920s. This event sees the return of arranger and pianist Rodney Sauer after the previous two highly successful and popular performances, featuring Harold Lloyd in Safety Last! and Dolores Del Rio in Ramona.
In the hilarious romantic comedy Sherlock Jr., Keaton plays a down-on-his-luck film projectionist who is in love with a beautiful girl. Through a series of misadventures, he is blamed for the theft of his paramours fathers watch but as an aspiring detective the young man is determined to find the real culprit. What follows is a hysterical dream sequence as Keaton falls asleep during a film and imagines himself as Sherlock Jr., who faces outlandish dangers (including an exploding game of billiards) to solve the case of a stolen pearl necklace.
Buster Keaton is best remembered for his incredible stunts, often putting himself at great physical risk to capture comedy bits like none other. Some of his most famous death-defying gags included standing perfectly still as the faade of a two-story house tipped forward, narrowly missing him as he passed through the window, and leaping the gap between two high-rise buildings using a wooden plank like a springboard before plummeting through several awnings. Sherlock Jr. is known for including several unusual stunts that established him as the best gag-man in Hollywood early in his film career.
The evenings film will be preceded by the 1928 short comedy Pass the Gravy starring Max Davidson, accompanied by an improvised piano score from Rodney Sauer. As the final concert of this series until the 2022/23 season, this evening of classic cinema and music should not be missed.
PLEASE NOTE: As of the publication of this press release, the Vancouver Symphony Orchestra requires proof of vaccination or a negative COVID test within 72 hours for admittance. Masks are required inside the building.
VSO Goes Back to the Movies: Sherlock Jr.
Thursday, April 7th, 7 PM
Kiggins Theatre,1011 Main St, Vancouver, WA 98660
Tickets: $25, $10 for students at door
About Rodney Sauer
pianist and score compiler, studied at the Oberlin Conservatory while majoring in Chemistry at Oberlin College, and has appeared as piano soloist with the Boulder Sinfonia. He is an avid student of silent film music, and his article on the history and use of "photoplay music" was published in the American Music Research Center Journal. He is a frequent performer in various participatory dance genres from early 20th century ballroom dance to morris and contra dance. He also plays solo improvised silent film scores, although the Mont Alto Orchestra is his major musical endeavor. In 2001 he won a Musical grant from the Arts and Humanities Assembly of Boulder.
About Eva Richey
Eva began her career playing regularly with several orchestras including the Cincinnati Symphony, Columbus Symphony, West Virginia Symphony and Kentucky Symphony. She toured South America with the New World Symphony and played briefly with the Cape Town Symphony in South Africa. She attended the Aspen and Tanglewood Music Festivals, learning from such conductors as Leonard Bernstein, Seiji Ozawa, and Eiji Oue. Eva has also enjoyed playing popular music in concert events with The Moody Blues, Yes, Harry Connick Jr. and Rod Stewart. In 2001, She moved to the northwest where she began working with the Oregon Symphony as Associate Music Librarian, as well as holding two one-year positions in the second violin section. Currently, Eva is on the adjunct faculty at Clark College as violin instructor and concertmaster of the Clark College Orchestra. She plays regularly with the Portland Opera, Portland Chamber Orchestra and Oregon Ballet Theatre.
About Dieter Ratzlaf
Dieter began cello studies at the age of seven and performed with thePortland Youth Philharmonicfor six years, touring Europe with the orchestra in 1989. He went on to receive his Master of Arts in Cello Performance at theSan Francisco Conservatory of Music. He has performed with the Oregon Symphony, Eugene Symphony, Portland Opera Orchestra (18 seasons) and the Oregon Ballet Theater Orchestra (10 seasons). Dieter was appointed principal cello of the VSO in 2005 and the Hood River Philharmonic in 2012, positions he currently holds.
About Scott Winks
Scott is an elementary and middle school band and orchestra teacher in the Evergreen School District, Vancouver. He has been with the Vancouver Symphony Orchestra for ten years and is co-founder of the Columbia River Brass Quintet who have been together since 2007. He has performed with Rose City Chamber Orchestra, Portland Chamber Orchestra, Portland Columbia Symphony, Bach Cantata Choir and Orchestra, the Willamette University Singers orchestra, and The Vancouver Big Band.
About Igor Shakhman
Dr. Shakhman has been heard in recitals, chamber music concerts and concert appearances throughout Europe and the US. As an orchestral clarinetist, he has performed with the Colorado and Oregon Symphony Orchestras, Oregon Ballet Theatre, Colorado Opera Orchestra, Russian State Symphony Orchestra and the chamber orchestras of Moscow Virtuosi and Moscow Stars.As a chamber musician and soloist, he has played in international music festivals in Oregon, Colorado, France, Greece, Russia and Switzerland. Dr. Shakhman has participated in two critically acclaimed Broadway tours: the first national tour ofOklahoma! as principal clarinetist and on-stage soloist in the North American tour ofFiddler on the Roof.He received his B.A. inMusic from Kharkov Music College, his Masters from the Moscow Conservatory and his Doctorate from the University of Colorado. He teaches at the University of Portland and is the Oregon state chair for the International Clarinet Association. In addition to being principal clarinet for the Vancouver Symphony, hes also the orchestras Executive Director.
About the VSO Chamber Concert Series
Founded in 2011 by Dr. Michael C. Liu and his wife Nien-Wei Hsiao in collaboration with VSO executive director Dr. Igor Shakhman, the VSO Chamber Series started in the Trinity Lutheran Church in Vancouver and moved to the Kiggins Theater in 2013. The series primary goals are to highlight the musicians of the VSO in different settings, bring more awareness to the public about the great symphony orchestra we have in the community, provide additional monetary support for the VSO, and to entertain and inspire its audiences. Performances have ranged from traditional chamber music concerts to live music and film presentations, the piano extravaganza and legacy young artists recitals, as well as concerts that highlight guest artists and other great musician collaborators.
About our Sponsors
The VSO is generously supported by individual donors, The M. J. Murdock Charitable Trust, All Classical Portland, Oregon Public Broadcasting, The Community Foundation of Southwest Washington, The Columbian, Dick Hannah Dealerships, ENT.Office.org, IsaacDSmith.com, PeaceHealth Southwest Medical Center, Propel Insurance, MedicareHelpNow, Opsahl Dawson CPAs, New Blueprint Partners, Realvest Corporation, and Michelles Piano Co.