VSO PRESENTS 2ND ANNUAL DISTINGUISHED SPEAKER SERIES FEATURING INTERNATIONALLY RENOWNED CONDUCTOR AND COMPOSER, MAESTRO SALVADOR BROTONS
February 15, 2018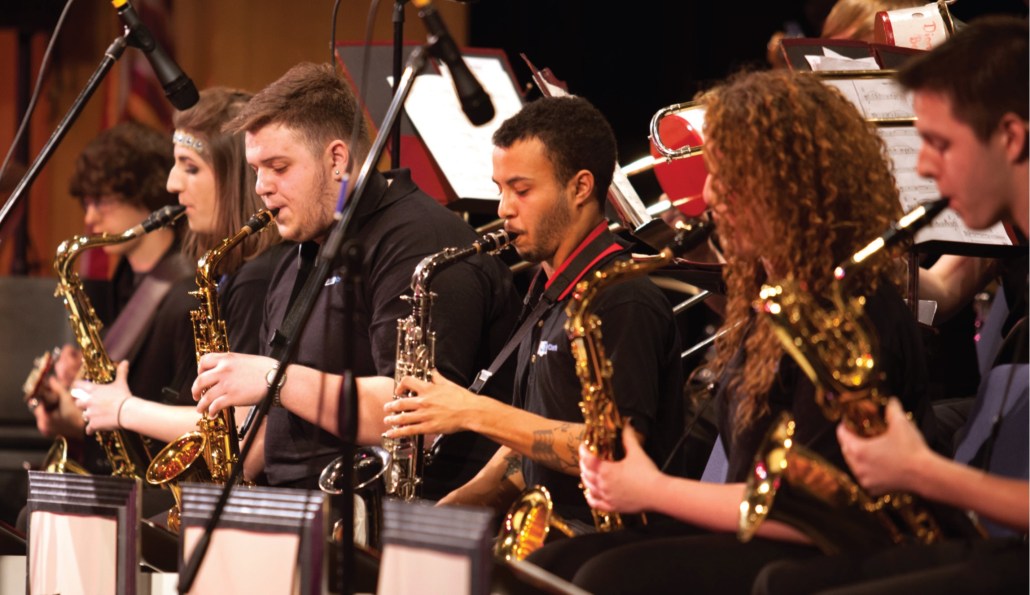 3rd Annual Evening of Jazz
February 27, 2018
DETAILS
VSO CHAMBER MUSIC SERIES CELEBRATES
ST. PATRICK'S DAY WITH A CELTIC CONCERT
SUNDAY, MARCH 18TH at 3PM
CELTIC MUSIC, PIPERS AND GREEN BEER ON TAP AT KIGGINS THEATRE
(Vancouver, WA) The Vancouver Symphony's Chamber Music Series celebrates St. Patrick's Day weekend at the historic Kiggins Theatre Sunday, March 18th at 3pm with a Celtic concert showcasing both classic and contemporary Irish music. A rich program of spirited dance tunes and cherished, audience-inclusive songs will be performed by members of the Vancouver Symphony Orchestra and will be followed by young artists playing the Celtic drums and flute. Patrons will be greeted outside the theatre by members of the Fort Vancouver Pipe Band. Green beer, popcorn, snacks and wine will be available for purchase inside.
Featured performers include Corrie and Darren Cook on concert flutes and Irish flutes, Michael C. Liu on piano, Edward Sale on double bass, Igor Shakhman on clarinet, and soprano Barbara Choltco.
Music to be performed include traditional songs "My Wild Irish Rose," "When Irish Eyes are Smiling," "Lannigan's Ball," "Believe Me If All Those Endearing Young Charms," and "Danny Boy." Also to be featured will be some duos for clarinet and piano by the Irish composer Charles Stanford, arrangements of Irish tunes by Percy Grainger, and a set of pieces by contemporary composer Shannon Heaton published in 2017 for Irish and Classical style flutes.
About Dr. Michael C. Liu
Michael was born in the Chicago area and started piano at the age of 4. He was fortunate to have won several prizes and awards in his youth that allowed him the opportunity to perform in the U.S. and abroad. His primary teachers included the late George Banhalmi and English pianist Ian Hobson. He attended Tanglewood and Meadowmount summer music programs where he developed his love of chamber music. In his youth, he was featured as a soloist with the Chicago Symphony Orchestra, the Taipei City Symphony, the Sinfonia Orchestra of Chicago, Wheaton Symphony, and others. He was later able to perform as soloist with the Rochester Symphony, Guam Symphony, and Vancouver Symphony (VSO) here in Washington. Dr. Liu received both degrees in chemistry and music prior to attending the Mayo Medical School and Graduate School of Medicine in Rochester, MN. He worked on the island of Guam for 4 years helping to care for an underserved population prior to moving to Vancouver. He is a faculty/professor for the Family Medicine of SW Washington Residency Program at the PeaceHealth Medical Center enjoys the teaching of medicine in addition to the caring of patients. Dr. Liu has been a long-time orchestra member and board member for the VSO. He and his wife Nien-Wei have been tireless supports and advocates for the VSO and the arts in SW Washington. He is a member of several smaller music ensembles including the Lohr Trio, a violin-piano duo with Dr. Thomas Hwang, and also a doctor jazz band called the MED Trio Plus.
About Dr. Igor Shakhman
Dr. Shakhman has been heard in recitals, chamber music concerts and concert appearances throughout Europe and the US. As an orchestral clarinetist, he has performed with the Colorado and Oregon Symphony Orchestras, Oregon Ballet Theatre, Colorado Opera Orchestra, Russian State Symphony Orchestra and the chamber orchestras of Moscow Virtuosi and Moscow Stars. As a chamber musician and soloist, Igor has played in international music festivals in Oregon, Colorado, France, Greece, Russia and Switzerland. Igor has participated in two critically acclaimed Broadway tours: the first national tour of Oklahoma! and as principal clarinetist and on-stage soloist in the North American tour of Fiddler on the Roof. He received his B.A. in Music from Kharkov Music College, his Master's from the Moscow Conservatory and his Doctorate from the University of Colorado. He teaches at Marylhurst University and the University of Portland and is the Oregon state chair for the International Clarinet Association. In addition to being principal clarinet for the Vancouver Symphony, he's also the orchestra's Executive Director.
About Darren Cook
Flutist Darren Cook is an accomplished musician. He has won many contests and competitions, and has performed professionally -- both as soloist and as an orchestra member -- throughout the United States, Canada, and Europe. He received his BM in flute performance from the Harid Conservatory of Music (now the Conservatory of Music at Lynn University) in Boca Raton, Florida where he graduated top of class.
Darren is a native Oregonian and grew up in Gladstone. He was once co-principal flute of the Portland Youth Philharmonic, and has been a member of the Oklahoma Sinfonia, the Tulsa Ballet Theater Orchestra and the Sinfonia Virtuosi Ballet Orchestra as well as having subbed with many professional orchestras. He and his wife Corrie decided to make Oregon their home, and returned to the Portland metro area in 1996. He is currently a member of the Vancouver Symphony and the Rose City Chamber Orchestra, as well as a faculty member of the Southwest Music School in Beaverton. He also freelances in the area. However, Darren gets the most enjoyment out of teaching private music lessons.
About Corrie Cook
Flutist Corrie Cook was born and raised in the Portland metro area. She attended Sam Barlow high school in Gresham, Oregon and participated in the Portland Youth Philharmonic music program. She graduated summa cum laude from Biola University in La Mirada, California with a bachelor of music degree in flute performance. She has performed with many groups all over the country before returning to the Northwest. Currently, Corrie is a member of the Vancouver Symphony Orchestra in Vancouver, Washington as well as the Rose City Chamber Orchestra. An active and dedicated flute teacher, Corrie maintains her own private studio and is on faculty at the Southwest Music School in Beaverton. She also freelances in the area individually and as a flute duo with her husband, Darren Cook. Past performances include the Brandenburg Concerto No. 2 with the Biola Chamber Orchestra and the Trio Sonata in G major BWV 1039 for two flutes and continuo performed with Darren Cook at the Bowdoin Summer Music Festival in Brunswick, Maine.
About Dr. Edward J. Sale
"I joined the Vancouver Symphonette shortly after starting work in Vancouver many years ago," recalls Dr. Sale. "The magic of music was a balm on the stresses of everyday life, and important to me through the years. I was fortunate to be on the committee which selected Salvador for our group, and have grown musically a great degree under his baton. When asked why I continue with The VSO, I say it is for the magic moments when the music transcends the mundane and lifts the spirit to new heights. During one concert, I notice a fellow player with tears on his face while playing a particularly beautiful musical passage. I think it is like that for all of us in The VSO under the baton of the maestro."
About Barbara Choltco
Barbara Choltco, soprano is a native of Pennsylvania currently residing in Vancouver, Washington. She received her Bachelor of Music Degree in Vocal Performance from the Eastman School of Music. Prior to moving to Washington, she sang as a church soloist in the Pennsylvania/New Jersey area and performed with the Boheme Opera Company in Trenton, NJ. Barbara has also performed as a soloist with the Vancouver Symphony Orchestra and the Vancouver Symphony Chamber Music Ensemble. She has been an instructor at Clark College for their Mature Learning Program and currently teaches opera appreciation classes at local senior living communities as well as teaching voice in her private studio. Barbara serves on the Board of Directors for Opera Quest Northwest, a non-profit performing group dedicated to bringing opera to school-age children.
The Kiggins Theatre offers a unique concert environment that is intimate and informal, with a fully staffed concession stand offering beer, wine, soft drinks, popcorn and candy.
Calendar Editors, please note:
VSO Chamber Series Presents A Celtic Celebration
Sunday, March 18th at 3pm
The Kiggins Theatre
1101 Main Street St, Vancouver WA
Tickets: $25-General Admission, $10-Student