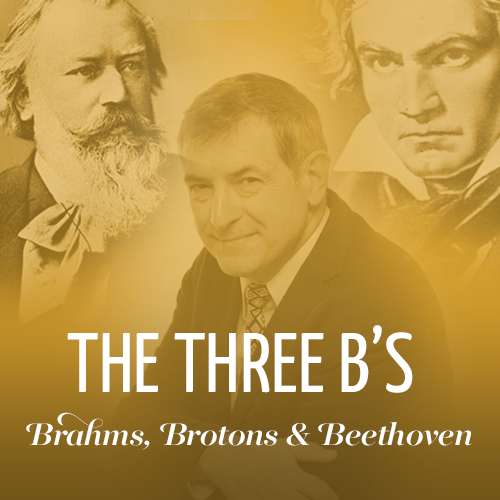 The Three B's: Brahms, Beethoven and Brotons
January 29, 2018
A Celtic Celebration (Bagpipes, Green Beer, And Celtic Inspired Music): Chamber Concert Series
February 27, 2018
VSO PRESENTS 2ND ANNUAL DISTINGUISHED SPEAKER SERIES FEATURING INTERNATIONALLY RENOWNED CONDUCTOR AND COMPOSER, MAESTRO SALVADOR BROTONS
LEGENDARY CONDUCTOR WILL BE JOINED BY LA PHILHARMONIC
PRINCIPAL TROMBONIST DAVID REJANO AND OTHER GUESTS AT WAREHOUSE 23 RESTAURANT IN VANCOUVER WA
(Vancouver, WA) The Vancouver Symphony Orchestra announces its Second Annual Distinguished Speaker Series fundraising luncheon featuring special guest Maestro Salvador Brotons and internationally acclaimed Principal Trombonist of the Los Angeles Philharmonic, David Rejano.
All Classical Portland Radio 89.9 FM's Matt Rogers will lead the discussion that explores the positive impact music and other arts have in local populations, the relevance, roles and responsibilities of a cultural community and the importance of building arts-based neighborhoods.
"Maestro Brotons is in his 27th year as a Music Director and Conductor of the Vancouver Symphony Orchestra and we are thrilled to have this unique opportunity to learn from his experience of being a part of this great community for nearly three decades", says VSO Executive Director, Igor Shakhman.
About Salvador Brotons
Salvador Brotons was born in Barcelona into a family of musicians. He studied flute with his father and continued his musical studies at the Barcelona Music Conservatory where he earned advanced degrees in flute, composition and conducting. In 1985 he won a Fulbright scholarship and moved to the US where he obtained a doctorate in music from Florida State University.
As a composer, he has written more than 130 pieces, mostly orchestral and chamber works, and has won major composition awards, including the Premio Orquesta Nacional de España (1977), for his Cuatro Piezas para Cuerdas, the Jove d'Or prize (1980), the Premio Ciutat de Barcelona (in 1983 for his first symphony, and in 1986 for his piece Absències (for narrator and orchestra), Southeastern Composers League Award for his Sinfonietta da Camera (1986), the Madison University Flute Choir Composition Award (1987) for his Flute Suite and the Premio Reina Sofia de Composición (1991) for his piece Virtus for Orchestra. He has also received many commissions.
Many of his works have been published and recorded in several CDs in Europe and in the US for labels such as Naxos, EMI, Auvidis, Naxos, Albany Records, Keys, Harmonia Mundi and RNE. He has been the Music Director and Conductor of the Orquestra Sinfónica de las Islas Baleares Ciudad de Palma (1997-2001, 2009-2013) and the Orquestra Sinfónica del Vallés (1997-2002). As conductor and music director of The VSO, he has received the Arts Council Award by Clark County and the City of Vancouver (remove space here), as well as the Kiwanis Rose Award (2005). At present he is the Conductor of the Barcelona Symphonic Band. Beside the U.S. and Spain, he has guest conducted orchestras internationally in Israel, France, Germany, China, Poland, South Korea, Mexico, Uruguay, and Colombia. Currently, he combines a busy schedule as a conductor and composer of a number of commissions of various genres. Since 2001 he has been a Professor of Composition and Orchestra Conducting at the Escola Superior de Música de Catalunya (ESMUC). Dr. Brotons resides in Barcelona with his wife, Dr. Melissa Brotons, renowned music therapist and Director of the inter-university Master's in Music Therapy in Barcelona. Their daughter, Clara, is a college student in New York.
About David Rejano
David Rejano is the Principal Trombone of the Los Angeles Philharmonic Orchestra since 2016. He was born in Badajoz (Spain), and initially studied music at the Conservatory in Madrid. Then he moved to the Conservatoire National Supérieur de Musique et de Danse de Paris, with professor Gilles Millière, where he graduated with the Diplôme de Formation Supérieur – Mention très bien à l'unanimité and the Prix Spécial du Jury. He joins the Los Angeles Philharmonic as Principal Trombone this month.
As a student, David Rejano was a member of several youth orchestras, among them the National Youth Orchestra of Spain, the European Union Youth Orchestra, and the West-Eastern Divan Orchestra (with Daniel Barenboim and Pierre Boulez). He has performed as guest Principal Trombone with the Berliner Philharmoniker, the Orchestre National de France, the Orchestre de l'Opéra de Paris, and the Symphonieorchester des Bayerischen Rundfunks, under the direction of conductors such as Kurt Masur, Valery Gergiev, Zubin Mehta, Lorin Maazel, Gustavo Dudamel, Daniel Barenboim, and Andris Nelsons.
From 2002 to 2007 David Rejano was Principal Trombone with the Orquesta Sinfónica de Navarra, from 2007 to 2010 Principal Trombone with the Orquesta del Gran Teatro del Liceo de Barcelona, and from 2010 to 2016 Principal Trombone with the Münchner Philharmoniker. Rejano appears frequently as soloist and teacher at different festivals, such as the Concours National de Trombone de France, the Festival Européen du Trombone (Strasbourg), the Sapporo Festival, the Summer Brass Festival, and the International Trombone Festival.
David is very active teaching, giving masterclasses all over the world as well as coaching youth orchestras. He is a Bach Performing Artist.
Calendar Editors, please note:
VSO Second Annual Distinguished Speaker Series
Maestro Salvador Brotons, Music Director of the Vancouver Symphony Orchestra
David Rejano, Principal Trombonist of the LA Philharmonic Orchestra
Friday, February 23rd at 11:30am
Warehouse 23 Restaurant, 100 Columbia St. #102, Vancouver WA
Tickets: $75
Lunch is included at this event.
Proceeds benefit the Vancouver Symphony Orchestra